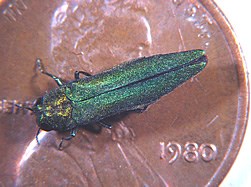 This camping and hunting season… get your firewood from a seller close to your destination. Don't pack your own firewood for use at your campsite or cabin. Unfortunately, our native trees and forests are being threatened by invasive insects and diseases that live in dead and dying wood. In many cases, these pests are being accidentally spread to new locations by people moving firewood from one location to another.


See a great cartoon about forest pests!
Ozark National Scenic Riverways has a Firewood Movement Restriction Program in place. If you are planning to visit the park, buy firewood locally (within a 50 mile radius of your destination) or "dead and down" firewood can be collected within the park.