Frequently Asked Questions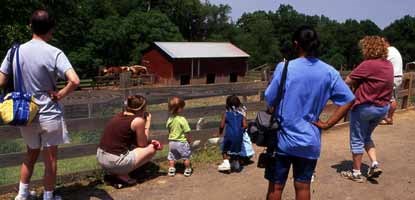 How much do the programs cost?
There is no admission or parking charge at Oxon Cove Park, and our programs are all free of charge.
Can my group sign up for more than one program on the same day?
Yes! For example, if room is available, you can reserve space for the same group in the
Chicken & Egg
program and
Meet the Cow.
Can I bring my group for a drop-in visit if I do NOT have a reservation?
We ask that school groups do not come without a reservation. Spring and autumn are particularly busy times at Oxon Cove Park and it is likely there will already be many visitors here the day you plan to drop in. Smaller family-sized groups are welcome to come without a reservation for a drop-in visit, but they cannot participate in a hands-on program if it is full already. Plan ahead! Make a reservation!
Are the days and times of programs flexible? How about the grade level?
Due to staffing hours and other constraints, the programs are only offered at specific times on specific dates. Daily programs are geared toward all ages, but curriculum-based programs are specific to grade levels.
How strict are the limits for the number of participants in the programs?
The limits have been set by physical constraints such as barn and classroom size. In addition, living creatures do not have unlimited patience while participating in demonstrations. If your group is beyond the size limit, we ask that you split your group and come on numerous days.
Will our group be joined by other visitors?
Individuals and small family groups of drop-in visitors sometimes join our reserved programs, if there is room. Also, sometimes group reservations are combined. (For example, a group of ten and a group of 15 participants, for the
Chicken & Egg
program.)
How many adults should we bring?
Chaperones are a necessary part of any successful field trip. Do NOT count them in your total number of participants. Preschool, kindergarten, and special education groups
must
bring at least one adult for every 5 children. The ratio for groups in grades 1-12 is one adult for every 7 students. The more the merrier! Chaperones are expected to be actively engaged in the activities and to supervise the students at all times.
What about rain?
We do not automatically offer a rain-date for our programs. The programs take place rain or shine, unless safety is an issue. Dress appropriately! If you choose to keep your group from attending due to the weather, call and we will see if we can reschedule your group. We do not allow "double-booking" the same group.
How far in advance can I reserve a program?
Typically, reservations are available months in advance. The most popular months are April, May, and October. The most popular day of the week is Friday.
What time should we arrive?
Plan to arrive at Oxon Cove Park at least 20 minutes before the start of your program. This gives your group ample time to walk from the parking lot to the Visitor Center and to take a restroom break, if needed. If your group is late due to traffic issues, etc., the staff will do its best to shorten the program and accommodate your group, but this is not always possible.
Where do we park?
Our large visitor parking lot will accommodate your group. From there, it is a 10-15 minute walk along a gravel path to the Visitor Center. Visitors with physical disabilities may be dropped off at the Visitor Center, and then the vehicle must be moved to the main parking lot.
What else can we do while at Oxon Cove Park?
Most groups spend a little time on their own doing a self-guided tour of the farm or a hike on one of our trails, either before or after their scheduled program. There is no playground but we have an open field where children can run and play.
Where can we eat our lunches?
You are welcome to have a picnic lunch in our uncovered picnic area (10 tables), near the parking lot, or in our covered "hay barn" (2 tables), near the Visitor Center. The picnic area and hay barn are first-come, first-served. There is no indoor eating area and no food for sale. A soda machine with water and soft drinks for purchase ($1.25) is in the Visitor Center. Restroom facilities and water fountains are near the Visitor Center. Numerous fast food restaurants are located within a mile of the park.
How do we get to Oxon Cove Park?
In recent years the traffic configuration near Oxon Cove Park has changed dramatically due to recent development at National Harbor. In reality, the park entrance is on Bald Eagle Road, not Oxon Hill Road as the address suggests. The most recent information is not always found on GPS and internet maps… Go to this
link
for good directions:
What else should we know about our upcoming visit?
For a list of field trip guidelines, click
here
. Call 301-839-1176 if you have other questions.
Last updated: August 25, 2017