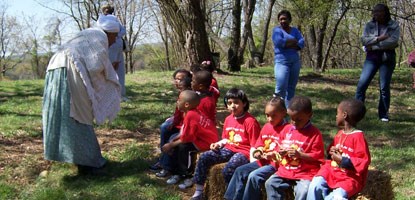 Animal Life on the Farm
Tuesday, 10:00 a.m., October through June
Pre-k to 1st grade
30 students or fewer
Your class will learn about farm animals and agricultural products. Students will meet the dairy cow, feed the chickens, and take a wagon ride through the barnyard area. In the weeks prior to the trip, the teacher will use the Teacher's Guide and an education kit that should be picked up at the park at least two weeks in advance to conduct pre-visit hands-on activities in their classroom.
Exploring the Past at Oxon Cove Park
Wednesday, 10:00 a.m., October through June
Kindergarten to 6th
30 students or fewer
Students will discover what life like on the Mount Welby Plantation during the early 1800s. Teachers can choose from 14 activities based on three overall themes: Slavery and the Underground Railroad, the War of 1812, and Immigration. Pre-site and post-site visit activities are required to be completed by students.