Climate Change Mitigation & Facility Adaptation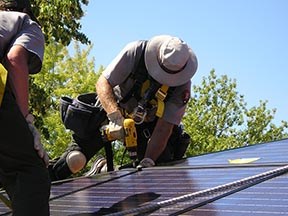 About
Tackling climate change depends on sustainable practices. Throughout the National Park Service (NPS), the effects of climate change on natural and cultural resources are already visible. At Joshua Tree National Park, changes in climate are making the park inhospitable to its namesake species and Glacier National Park is rapidly losing glaciers. As stewards of our national cultural and natural treasures, the NPS is working to decrease its environmental footprint and begin to adapt to potential future conditions. These activities are reinforced by federal mandates and NPS initiatives, such as the Green Parks Plan (PDF 2.5KB) and Climate Change Action Plan (PDF 4.75MB), that require agencies to become more sustainable and to track and mitigate greenhouse gas (GHG) emissions.
Servicewide Greenhouse Gas (GHG) Inventory
The NPS prepares annual GHG inventories via protocol outlined in the Federal GHG Accounting and Reporting Guidance. The inventory includes emissions that occur from building fuel and electricity use, fleet fuel use, waste and waterwater disposal, employee commuting, and business travel.
The NPS has set servicewide GHG reduction goals, as identified in the Green Parks Plan, and utilizes initiatives such as the Climate Friendly Parks to meet these goals. Parks across the country participate in the GHG reduction effort by:
providing data and information needed to prepare annual servicewide inventories;

participating in sustainability initiatives such as the CFP program to learn more about GHG emissions, climate change, and sustainability; and

implementing on-the-ground sustainability actions for facility and fleet management, among other actions.

Climate Friendly Parks
The Climate Friendly Parks (CFP) Program began in 2002 and continues as a partnership between the Park Facility Management Division (PFMD) and Air Resources Division of the National Park Service. The CFP program provides the tools and technical support for parks to assess and decrease emissions as well as educate staff and visitors about climate change.
The goals of the CFP Program are to:

Measure park-based GHG emissions;
Educate park staff and the public about climate change and demonstrate ways individuals and groups can take action to address the issue; and
Develop strategies and specific actions to address sustainability challenges, reduce GHG emissions, and anticipate the effects of climate change on protected resources.
The CFP program is one component of the NPS
Green Parks Plan
and includes over 100 member parks.
Read more about the program
as well as member parks and the actions they are taking to help more the NPS in a more sustainable direction.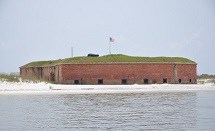 Climate Change Vulnerability and Facility Adaptation
The Sustainable Operations and Climate Change (SOCC) branch ensures that parks consider the effects of climate change before building, renovating, or making significant capital investments into agency facilities. To do so, the branch provides innovative guidance, tools, and resources to assist park planners in identifying the risks posed by climate change to proposed projects, and to make educated and calculated adaptation, siting, construction, and repair/rehabilitation decisions.
In 2014, the branch began a partnership with Western Carolina University's Program for the Study of Developed Shorelines to develop a Coastal Hazards and Climate Change Asset Vulnerability Assessment Tool. As of September 2015, this latest tool was deployed at several coastal parks to assist staff in conducting vulnerability assessments in the build environment. Findings and more information will be provided as assessments are completed and the tool is finalized.
Last updated: September 24, 2015