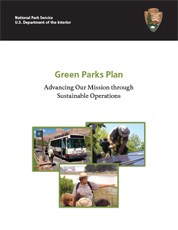 Since its inception in 1916, the National Park Service (NPS) has been a world leader in protecting natural and cultural resources. The NPS has preserved many of the country's greatest treasures and in the process has been a model of resource management. As the NPS moves into its Centennial year in 2016, we look forward to a second century of sustainability and continued progress.
The NPS manages the largest number of constructed assets of any civilian agency in the federal government. We operate and maintain more than 67,000 structures spread across over 400 national parks that account for more than 50 million square feet of constructed space (e.g., visitor centers, historic structures), more than 4 million acres of maintained landscapes (e.g., campgrounds, battlefields), 17,000 miles of trails, and more than 3,000 utility systems. We are designing new facilities and renovating existing buildings to operate in a much more sustainable manner and working to reduce their overall environmental impacts.
The Green Parks Plan (GPP) (PDF) defines a collective vision and long-term strategic plan for sustainable management of NPS operations. A critical component of the GPP is informing and engaging park staff, visitors, and community partners about sustainability concepts to broaden opportunities to foster change.