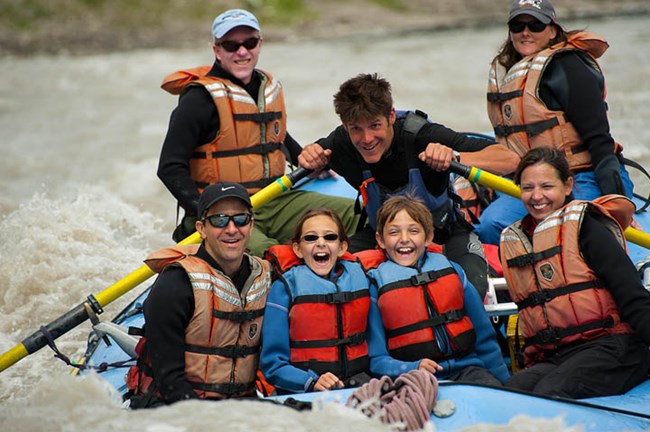 Commercial Services For Park Visitors
The Park Service works with commercial service providers to supply a variety of experiences and services to visitors in our parks. These Commercial Visitor Service Providers fill a vital role in helping the National Park Service carry out its mission. From food and lodging to guided recreational activities, these businesses are authorized to offer certain goods and services to park visitors, which are not provided by National Park Service personnel.
For a complete list of businesses providing commercial services in Alaska's parks, visit the
Directory of Commercial Visitor Services Providers
.
Providing Commercial Visitor Services in Alaska's National Parks
Approximately 400-425 companies annually provide a wide variety of commercial visitor services for visitors to Alaska's 16 national park areas. The number of companies and volume of business activity varies by year but the trend is towards a modest increase, as tourism in Alaska expands. The NPS authorizes commercial visitor services under concession contracts and commercial use authorizations. There are many distinctions between these two types of authorizations, but generally the NPS issues concession contracts when there is a need to limit the number of operators or construct facilities in park areas and a competitive system is employed to solicit proposals from private businesses. Commercial use authorizations are generally used when a service is appropriate for the park area, but there is no need to limit the number of service providers or construct facilities in park areas and therefore no need to employ a competitive system to award the authorization. Of the 400-425 companies mentioned above, approximately 105 are authorized under concession contracts and the remainder authorized under commercial use authorizations. Generally, engaging in or soliciting any business in a national park requires a contract or other written authorization from the National Park Service (NPS).
For more information on concession contracts and commercial use authorizations in the Alaska region, visit the
Commercial Visitor Services
page.
Other Business Services
For types of business services other than concessions and commerical use authorizations, please see the links below or get in touch with the to the points of contact for each area.
Acquisitions
Advanced Acquisition Plans
System for Award Management
(SAM)
All contractors must be registered & active
Internet Payment Platform
(Goverment Invoicing)