Vietnam Veterans Memorial Collection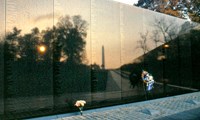 Introduction
The Vietnam Veterans Memorial serves as a testament to the sacrifice of American military personnel during one of this nation's most controversial wars. The memorial consists of four distinct parts: The Memorial Wall, the Three Servicemen statue and flagpole, the Women in Service to the Vietnam War statue, and the In Memory plaque. The purpose of this memorial is to separate the issue of the sacrifices of the veterans from the U.S. policy in the war, thereby creating a venue for reconciliation.

Collection Summary
The Vietnam Veterans Memorial museum collection is composed of offerings that have been left by people who visit the memorial and want to pay tribute to the names listed there. This unique collection of tributes contains objects of all shapes and sizes, from a 4th Infantry Division lapel pin to a 1960's-era motorcycle. The items are grouped into six major categories:

Personal artifacts: a childhood toy, a letter from a mother to her son, a high school trophy, a birthday card.
Vietnam military service items: jungle boots, M1 helmets, boonie hats, war trophies.
Protest and advocacy pieces: items related to the POW-MIA issue, PTSD awareness, Agent Orange exposure.
Public tribute items: thank you cards, posters, origami cranes.
Architectural elements: stone samples, blueprints, casts and molds.
Site history items: items that relate to the Memorial's planning, design, construction, and preservation.
Collection Size
~250,000

Curator
Last updated: September 26, 2018