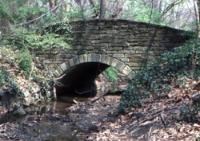 Introduction
Rock Creek Park offers visitors an opportunity to enjoy the beauty of nature. Fresh air, majestic trees, wild animals, and the ebb and flow of Rock Creek emanate from the delicate aura of the forest. Our country's history also abounds within the park, encompassing the lifeways of the Piscataway Indians, the Old Stone House, Peirce Mill, remnants of the Civil War. The establishment of Rock Creek Park in 1890, "...for the benefit and enjoyment of the people of the United States" served as an inspiration for the creation of future national parks.
Collection Summary
Herbarium; entomological, geological, and zoological specimens; historical furnishings and objects related to the Pierce Mill; archeological objects recovered within the park and associated field records.
The following park museum collections are managed by Rock Creek Park: the Old Stone House and Peirce Mill.
Follow links above for details on individual park collections.
Collection Size
~97,000 (total of all park unit museum collections)
Facilities Exhibiting Museum Items
Curator
TBD