Prince William Forest Park Collection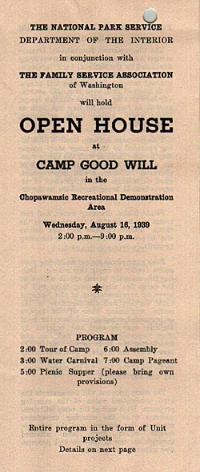 Introduction
The hills within Prince William Forest Park have been inhabited for at least 9,000 years. Many diverse groups, including American Indians, African Americans, loggers, miners, and European settlers, have called the parklands home. These various human inhabitants contributed to a diverse landscape that features historic roads, town sites, and mines. Traces of this human history can still be seen throughout the park, with stone piles marking property corners, old fences, and gravestones in family cemeteries.

First established in 1933 as Chopawamsic Recreational Demonstration Area (RDA), Prince William Forest Park was created as part of President Franklin D. Roosevelt's New Deal—a nationwide effort aimed at fighting the effects of the Great Depression. It was built as a new type of park, where low-income, inner-city children and families could escape the city and experience nature. The Civilian Conservation Corps (CCC) and Works Progress Administration (WPA), programs to reduce unemployment and teach job skills, constructed roads, bridges, dams, and cabin camps throughout the park, which remain today as a reminder of the park's RDA history.

The family camps closed for three years during World War II when the park became a top secret paramilitary installation. The Office of Strategic Services (OSS), the first centralized intelligence agency in the U.S., operated two training schools in the park for spies, teaching recruits to gather intelligence, decipher codes, and interpret covert radio transmissions. Many physical remnants exist from this time period, including the modified cabin camps; bunkers; and areas used for armament practice such as firing, mortar, and demolition ranges.

The park returned to recreational use in 1946 and was established under its present name in 1948. While the region has become increasingly urban, Prince William Forest Park still serves as a place where visitors can engage nature while immersed in the natural landscape of a distinctive period of American history.
Collection Summary
Zoological, botanical and geological specimens; cultural history artifacts; archaeological artifacts (2000 BCE - AD 1940); photographs; maps; archival materials.
Collection Size
~32,000
Facilities Exhibiting Museum Items
Visitor Center – Triangle, VA
Curator
TBD
Virtual Museum Exhibit
Last updated: January 9, 2015