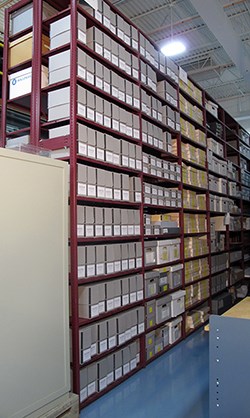 The Museum Resource Center curates over six million artifacts. Preservation of these artifacts requires careful storage and planning. To mitigate any "agents of deterioration," special steps must be taken. These "agents" include:
Light damage — Both visible and ultraviolet light rays can harm artifacts by fading objects and breaking down fibers;
Pest problems — Many artifacts are considered a great meal by bugs and rodents, or they are used as nesting material;
Environment — Dirt, dust, gaseous pollutants, and body oils all affect artifacts by breaking down the object or by attracting other dirt to the objects;
Temperature and humidity — Severe fluctuations can cause warping and shrinkage as well as mold, mildew and rust;
Storage — Improper storage techniques can damage or degrade artifacts, reducing the lifespan of an object;
Security and fire protection — Without proper precautions, in cases of disaster, objects can easily be lost.
Because of the threats these "agents" pose to museum collections, proper long-term controls have been put in place at the Museum Resource Center. These include light level control to avoid light damage; a strict integrated management plan to minimize danger to objects; air filtering and proper object handling techniques; temperature and humidity control appropriate to the particular artifact type; correct storage shelving, racks, and containers; and utilizing proper human and electronic security and fire protection systems to prevent or reduce threats to museum collections housed at the facility.
Learn more about preservation in the National Park Service.
Other Links of Interest ...