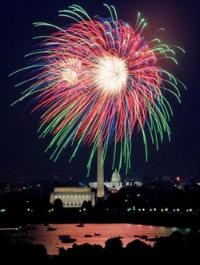 Introduction
Officially established in 1965, National Mall and Memorial Parks (NAMA) protects some of the most iconic structures and park land in the National Park System. Areas within this park provide visitors with ample opportunities to commemorate presidential legacies; honor the courage and sacrifice of war veterans; and celebrate the United States commitment to freedom and equality. Located in the core of the Nation's Capital, NAMA is responsible for some of the United States' most recognizable natural and cultural resources such as the Washington Monument, Thomas Jefferson Memorial, Lincoln Memorial, World War II Memorial, Korean War Veterans Memorial, Vietnam Veterans Memorial, Ford's Theater NHS, and over 150 major named historic parks, squares, circles and triangles. Park resources include the 2,000 American elms which line the Mall and the 3,000 internationally-renowned Japanese cherry trees which grace the Tidal Basin. This impressive mingling of natural and cultural resources has made our Nation's Capital one of the more heavily visited and photographed places in the world.
Collection Summary
The National Mall & Memorial Parks (NAMA) manages seven museum collections: National Mall – General, Ford's Theatre National Historic Site, Lightship Chesapeake, Lincoln Memorial,Thomas Jefferson Memorial, Vietnam Veterans Memorial, and Washington Monument. Follow links above for details on individual park collections.
The park's cultural collections reflect the design, construction and maintenance of the memorials, as well as the individuals (designers, builders) associated with them. These are commemorative spaces that allow visitors to reflect on the people and events honored at each memorial. The park's natural and cultural resources comprise historic structures, cultural landscapes, ethnographic and archeological resources, and a variety of vegetation and wildlife. Our natural history study collections were created as a result of research permits in the park. Samples of specimens found and documented in the park reflect our natural resource diversity.
Collection Size
~895,000 (total of all park unit museum collections)
Facilities Exhibiting Museum Items
Curator
For more information