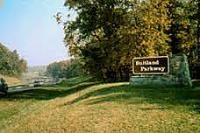 Introduction
Suitland Parkway is a limited-access scenic roadway that was opened during World War II on December 9, 1944, to serve as a rapid transit road between Camp Springs (later renamed Andrews Field) in Prince George's County, Maryland, to Bolling Field Air Force Base, the Pentagon, and downtown Washington, D.C.
Today the Parkway is a dual-lane roadway used by visitors and commuters approaching the nation's capital from the east. The White House frequently uses the Parkway, as well as congressional and military personnel and foreign dignitaries who fly into and out of Andrews Air Force Base. The Parkway corridor is often the first image foreign heads of state get of the United States.
Collection Summary
Archeological objects systematically recovered from sites within the park's boundaries and associated field records.
Collection Size
~2,400
Curator
Mike Antonioni
(National Capital Parks–East)