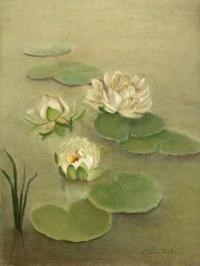 Introduction
Kenilworth Park and Aquatic Gardens constitutes some 700 acres and is part of Anacostia Park. The park includes the "Gardens," Kenilworth Marsh, ballfields, and recreational facilities. The origins of Kenilworth Park and Aquatic Gardens lie not only in the 1791 L'Enfant Plan for the District of Columbia, but also the McMillan Plan of 1901 which specifically recommended extension of public parkland along both sides of the Anacostia River.
The Kenilworth Aquatic Gardens is the only National Park Service site devoted to the propagation and display of aquatic plants. The Gardens were begun as the hobby of a Civil War veteran and operated for 26 years as a commercial water garden. In 1938, the Gardens were purchased by the federal government.
Collection Summary
Archeological objects systematically recovered from within the park's boundaries and associated field records; objects and documents related to the Aquatic Gardens and to Walter Shaw and Henry Fowler and their families (c. 1812-1938).
Collection Size
~9,000
Curator
Mike Antonioni
(National Capital Parks–East)