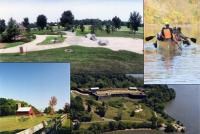 Introduction
National Capital Parks–East encompasses 13 park sites, parkways and statuary covering more than 8,000 acres of historic, cultural, and recreational parklands from Capitol Hill to the nearby Maryland suburbs.
Collection Summary
The following park museum collections are managed by National Capital Parks–East Parkway: Anacostia Park, Baltimore-Washington Parkway, Capitol Hill Parks, Carter G. Woodson Home NHS, Civil War Defenses of Washington - Fort Circle Parks, Fort Dupont Park, Fort Washington Park, Frederick Douglass NHS, Greenbelt Park, Harmony Hall, Kenilworth Park & Aquatic Gardens, Langston Golf Course, Mary McLeod Bethune Council House NHS, Oxon Cove Park / Oxon Hill Farm, Oxon Cove Parkway, Piscataway Park, and the Suitland Parkway.
Follow links above for details on individual park collections.
Collection Size
~2,500,000 (total of all park unit museum collections)
Curator
Virtual Museum Exhibit