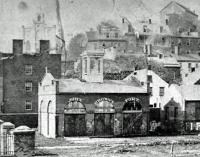 Introduction
Harpers Ferry NHP is home to cultural resources spanning thousands of years, from pre-European contact Indian populations through the time of John Brown's infamous raid and the Civil War, to the Civil Rights movement and Storer College. Collections for Harpers Ferry NHP include both natural and cultural objects collected as part of surveys and excavations conducted within the Park. Additionally, history objects are accessioned by the park if they fit within the Scope of Collections statement.
Collection Summary
Weapons, equipment, and other objects used by John Brown and his associates in planning and executing the raid on Harpers Ferry; furnishings and other objects on display in several historic structures; archival materials including photographs relating to the John Brown raid, industrial history of Harpers Ferry and the Civil War; archeological objects systematically recovered from sites within the park's boundaries and associated field records. Scope of Collections Statement.
Archeology
Harpers Ferry has an active archeology program which surveys and excavates sites to fulfill mitigation for Section 106 of the National Historic Preservation Act and research on specific topics of interest in Harpers Ferry history. As part of the work completed for each project, artifacts are processed, cataloged, and analyzed.
Collection Size
~1,137,000
Curator
For more information