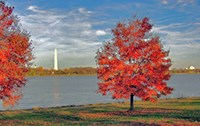 Introduction
The George Washington Memorial Parkway preserves the natural scenery along the Potomac River. It connects the historic sites from Mount Vernon, where Washington lived, past the nation's capital, which he founded, and to the Great Falls of the Potomac where the President demonstrated his skill as an engineer. Developed as a memorial to George Washington, the parkway may be used on any day to travel to exciting historical, natural, and recreational areas. These places are all linked by this planned and landscaped road, the first section of which was completed in 1932 to commemorate the bicentennial of George Washington's birth. The parkway protects the Potomac River shoreline and watershed, passing through the same lands George Washington frequently traveled by horse.
Collection Summary
The following park museum collections are managed by the George Washington Memorial Parkway: Arlington House – The Robert E. Lee Memorial, Clara Barton National Historic Site, Fort Hunt, Glen Echo Park, Great Falls Park (Virginia), and Theodore Roosevelt Island. The Jones Point site objects are included in the main George Washington Memorial Parkway totals and are not available separately.
General collections: Archeological objects systematically recovered from within the parkway's boundaries and associated field records. Follow links above for details on individual park collections.
Collection Size
~303,000 (total park collections)
Curator
Virtual Museum Exhibits