Through the Lens of the Past: The Development of the Parks in the National Capital Region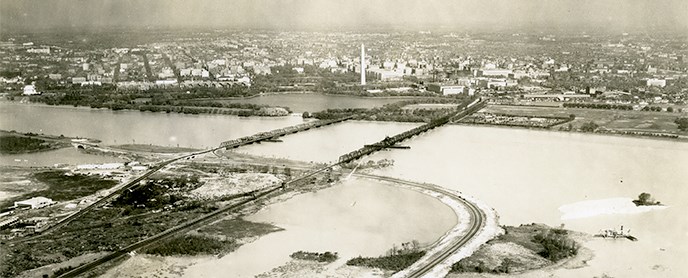 Introduction | Community | History | National Heritage | Nature | Performing Arts
Introduction
On August 25, 1916, President Woodrow Wilson signed the Organic Act creating the National Park Service (NPS). It was to serve as a new federal bureau in the Department of the Interior responsible for protecting the 40 national parks and monuments then in existence and those yet to be established.
This year marks a special milestone as the National Park Service officially turns 100 years old on August 25, 2016. We will celebrate the centennial as we move into the next century of stewardship for America's national parks and preserving our history. These images help illustrate how much some of our parks have changed over the past hundred years.
The five parks highlighted are places people visit to reconnect with nature, community, the arts, and the varied history of our great nation. The educational, cultural, and natural programs that these parks offer to the public are made possible by the behind the scenes support from units like the National Capital Region's (NCR) Museum Resource Center. The Museum Resource Center serves as a collections storage facility, housing and caring for the cultural and natural resources that originate from the parks in the region. These are the objects and artifacts that tell our national stories, teach us about our history, and connect us to the past, present and future of our nation.
Our Mission
The National Park Service preserves unimpaired the natural and cultural resources and values of the National Park System for the enjoyment, education, and inspiration of this and future generations. The Park Service cooperates with partners to extend the benefits of natural and cultural resource conservation and outdoor recreation throughout this country and the world.
A Look Through the Lens at the Past
This photo exhibition documents and showcases the development of the National Parks in the Washington, D.C. area. The network of parks administered as part of the National Capital Region span both urban and rural spaces, safeguards natural and man-made wonders, and connects our nation's past with the present. In this exhibition, five park units have been chosen, each demonstrating a different quality of what the National Capital Region represents: Community, History, National Heritage, Nature, and Performing Arts.
All the historic photographs on these pages are part of the National Capital Region's Public Affairs Photograph Collection.
The collection is housed at the National Capital Region's Museum Resource Center and spans 200 linear feet.
Last updated: March 31, 2016