Archival Materials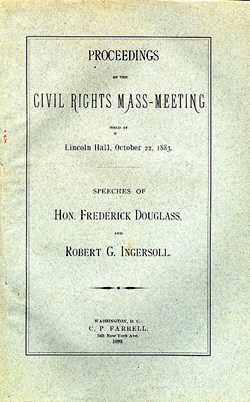 The archival collections at the Museum Resource Center (MRCE) relate to the management of park resources, the decision making process of individual park units, and document park activities within the National Capital Region. In addition to housing collections created by park units, MRCE is also a repository for archival collections acquired by individual parks because those materials either relate to or further explain the historical significance of the site. Included in the archival collections are a variety of materials such as correspondence, memoranda, publications, reports, photographic materials, applications, posters, financial information, ephemera, clippings, etc. As of 2014, MRCE stores over 3,000 linear feet of archival materials from NCR parks.
Some of the archival collections housed at MRCE include:
The National Archives for Black Women's History, an archival collection dedicated to the history of African American women, encompassing the National Council of Negro Women's records from the Mary McLeod Bethune National Historic Site. The processing of these materials —which includes the organizing, arranging, rehousing and describing of the items —is an ongoing project under the NPS's archives backlog project;
The Museum Resource Center's Records Collection, which documents the administrative history of MRCE;
The National Capital Region photograph collection, which contains photographs taken by NPS photographers to document NCR units and their activities, programs sponsored by NPS (such as Summer in the Parks) or events that take place on NPS managed areas — the Cherry Blossom Festivals, the President's Cup Regattas on the Potomac River, fireworks on the National Mall, rallies/protests / demonstrations, among others;
The Rock Creek Park Resource Management Records, which document the history of the park as well as park's management of its resources.
Other NPS units will be storing their resource management records at the Center in the future.
Last updated: February 3, 2015