Community Stewardship Program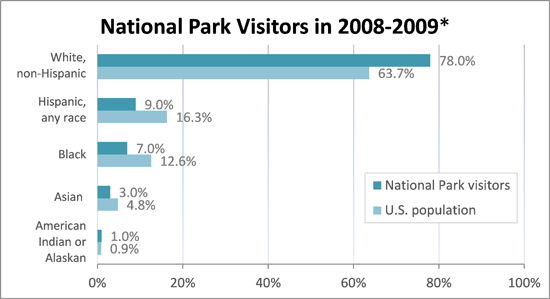 National Park Service (NPS) visitors are not representative of the changing American demographics*. Parks are seeing a record number of visitors on a yearly basis but minority communities are disproportionately underrepresented. This manifests itself in the park service's workforce as well, creating a cycle of exclusivity that does not lend itself to inspiring a new generation of stewards that reflects the diverse culture and heritage of the American people.
As the NPS moves into its second century, the service will have to be proactive and innovative in its approach to engaging new audiences as well as in its approach to resource stewardship. Climate change, invasive species, and habitat fragmentation are examples of the many issues that will challenge the conservation strategies of the 20
th
century. Parks may identify actions that could help to protect resources from impending threats, may not be able to fully implement these actions on their own.
To address these issues the Community Stewardship Program (CSP) will work with parks, partners, and communities to develop biological resource projects that contribute to park-identified needs and engage youth and underrepresented communities. We believe that by inviting new audiences to participate in resource stewardship, we can build long-term relationships that will promote inclusion and ownership of national parks while expanding the NPS sphere of influence beyond park boundaries. Likewise, by developing robust protocols and leveraging resources we can target these stewardship efforts to address critical needs in parks through citizen science and have a measurable conservation impact.
Last updated: July 19, 2017