Things To Do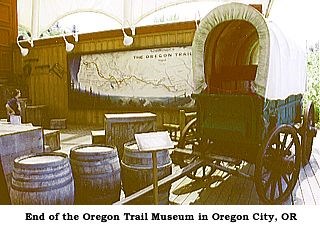 There are a number of ways to enjoy the Oregon National Historic Trail including auto-touring, visiting interpretive sites, hiking, biking or horseback riding trail segments and visiting museums. Depending on which segment you would like to explore, some or all of these activities may be available.
Although the word "trail" is used in the name, the Oregon NHT is not a true hiking trail. With 2,170 miles of the original route now in the hands of various private and public entities, access to trail segments depends upon the permission of the land owner. Some segments are open to the public for hiking and other means of recreation, while others are not.
Following is a list of suggested activities for getting to know the Oregon NHT. Inquiries about trail segments not listed are best made locally. See the Travel and Tourism, Trail Sites, and the Oregon Trail Auto Tour Route driving directions for more information.
Camping

The National Park Service does not offer any camping facilities along the trail. Inquire at local trail resource site for camping opportunities. (see Travel and Tourism page).
Short Hikes (usually less than 300 yards to trail ruts or historic sites)
Minor Park Ruts, Red Bridge Crossing of the Blue River in Kansas City, MO
Alcove Springs in Blue Rapids, KS
Rock Creek Station in Fairbury, NE
Susan Hail Grave near Lowell, NE
California Hill in Brule, NE
Ash Hollow State Park in Lewellen, NE
Scotts Bluff National Monument/ Mitchell Pass in Gering, NE
Fort Laramie NHS/Bedlam Ruts in Fort Laramie, WY
Register Cliff in Guernsey, WY
Oregon Trail Ruts Historic Site in Guernsey, WY
Avenue of Rocks on Poison Spider Road west of Casper, WY
Independence Rock on the Sweetwater River in WY
Devils Gate on the Sweetwater River in WY
South Pass near South Pass, WY
Massacre Rocks west of American Falls, ID on I-86
Milner Ruts in Burley, ID
Hagerman Fossil Beds in Hagerman, ID
Three Island Crossing in Glenns Ferry, ID
C.J. Strike Ruts on Hwy 78 west of Glenn's Ferry, ID
Bonneville Point in Boise, ID
Keeney Pass in Vale, OR
National Historic Oregon Trail Interpretive Center (Flagstaff Hill) in Baker City, OR
Oregon Trail Interpretive Park at Blue Mountain Crossing in La Grande, OR
Echo Meadows in Echo, OR
Wells Spring at the south edge of Boardman Bombing Range, OR
Fourmile Canyon south of Arlington, OR
Barlow Pass on Hwy 26, OR
Laurel Hill on Hwy 26 between mile posts 50 and 51, OR
West Barlow Tollgate on Hwy 26 between mileposts 50 and 51, OR
Long Hikes
(access to extensive trail segments)
South Pass Segment: Independence Rock to Parting of the Ways, 125 miles

South Pass near South Pass City, WY

Bear River Divide Segment: US 189 to WY 89, 31 miles

Blue Mountain Segment in LaGrande, OR to Mount Emily interchange off I-84: 17 miles

Boardman Segment at the Boardman Bombing Range, OR: 12 miles
4x4 and Horse Access
(extensive trail segments)
Oregon Trail Road: Mills, WY to WYO-220 just north of Independence Rock, 41.5 miles

South Pass Segment: Independence Rock to Parting of the Ways, 125 miles

Parting of the Ways: end of the South Pass segment

Bear River Divide Segment: US 189 to WY 89, 31 miles

Blue Mountain Segment in LaGrande, OR to Mount Emily interchange off I-84: 17 miles

Barlow Road Segment from Barlow Gate to Barlow Tollgate: 32 miles
Trail Museums
Last updated: May 9, 2019