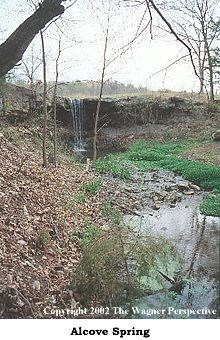 Alcove Spring - Blue Rapids, Kansas
This picturesque area was a favorite campsite near the Independence Crossing of the Big Blue River. The spring originates in an unusual rock formation and falls over a rock ledge into a pool below. Emigrants carved their names in the rocks surrounding the spring, and many of these carvings are still visible.
Edwin Bryant, traveling with the ill-fated Donner-Reed Party, wrote a detailed description of the spring on May 27, 1846: "We found a large spring of water, as cold and pure as if it had just been melted from ice. It gushed from a ledge of rocks, which composes the bank of the stream, and falling some ten feet, its waters are received into a basin. . . . A shelving rock projects over this basin, from which falls a beautiful cascade of water, some ten or twelve feet. The whole is buried in a variety of shrubbery of the richest verdure. . . . Altogether it is one of the most romantic spots I ever saw. . . . We named this the 'Alcove Spring' and future travelers will find the name graven on the rocks, and on the trunks of the trees surrounding it."
Sarah Keyes, Margaret Reed's mother, died here while the party was waiting for the river to fall enough to cross. She was buried somewhere in the area.
Alcove Spring is located about six miles south of Marysville, Kansas on the River Road. Follow the highway directional signs.