National Historic Oregon Trail Interpretive Center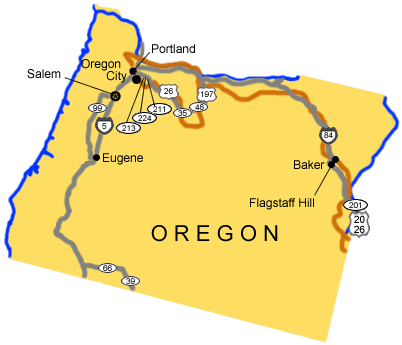 Flagstaff Hill - Baker City, Oregon
NOTICE: The National Historic Oregon Trail Center is currently CLOSED for building renovations. Please check with the site for more information on the reopening schedule.
This 23,000 square-foot interpretive center atop Flagstaff Hill overlooks nearly seven miles of well-preserved Oregon Trail ruts that extend across Virtue Flat southeast of Flagstaff Hill. This arid trail segment, where emigrants fought their way through shoulder-tall sagebrush, tested weary emigrants who had endured four or five difficult days ascending Burnt River. In places, several ruts run parallel, suggesting some teams pulled alongside or ahead of others in the push to reach the Powder River.
But travelers were also greeted with their first site of the Promised Land beyond. From atop Flagstaff Hill, the Blue Mountains beckoned in the distance, assuring emigrants that their long journey from the Missouri would soon end in the long awaited Willamette Valley.
The Bureau of Land Management operates the interpretive center. Living history programs, life-sized dioramas, an amphitheater, and an interpretive trail system support the center's theme of describing life along the trail.
22267 Oregon Highway 86, P.O. Box 987, Baker City, Oregon 97814-0987
541-523-1843
Last updated: April 14, 2022