California Hill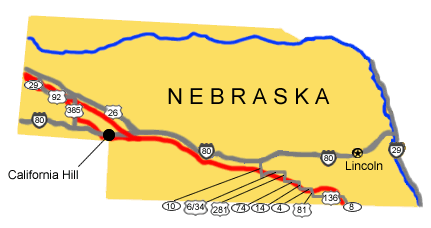 California Hill/Upper Crossing of the South Platte River - Brule, Nebraska
Near North Platte Nebraska, the Platte River splits into two major forks, with the South Platte running generally southwest towards Denver and the North Platte heading northwest towards Fort Laramie. Sooner or later, the emigrants were forced to cross the South Platte in order to reach and follow the North Platte towards South Pass.
Several crossing sites were used, but the Upper Crossing was the most important because it led directly to Ash Hollow, the best approach to the North Platte River. California Hill, encountered immediately after crossing the South Platte, was the first major grade faced by the emigrants. This necessitated a climb of 240 feet in just over 1½ miles in order to reach the plateau between the North and South Platte Rivers. Imposing trail ruts are still plainly visible most of the way up the hill.
The Nebraska State Historical Society, who owns the resource, invites you to get out of your car and walk in the footsteps of the pioneers. The panoramic views back toward California Crossing are spectacular.
Visit a marker on Highway 30, about 4.5 miles west of Brule.
Last updated: February 10, 2020