Off-Trail Caving Tours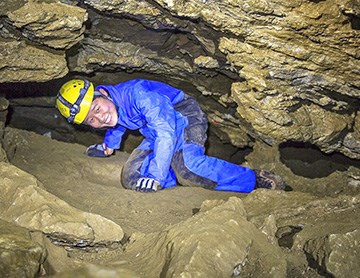 Click here for Off-Trail Tour reservations (recreation.gov site).

An Introduction to Caving

Experience the wondrous, wild areas of Oregon Caves National Monument off trail! Trained guides will teach you caving techniques, cave etiquette, and bring you face-to-face with the marble structure of Oregon Caves. This three-hour experience through tight squeezes and crawls will challenge and exhilarate you!
The Off-Trail 2015 season is June 19–August 30 with tours Fridays and Saturdays at 1pm.

Fees and Cancellations
The cost is $45 per person. You must reserve a tour in advance and space is limited to 8 per tour. To begin the reservation process click here (recreation.gov site).
Should you need to cancel your reservation click here.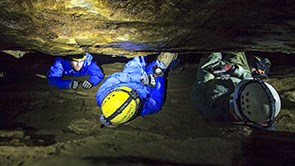 About the Off-Trail Experience

This is a very strenuous, adventurous experience. Scramble boulders, belly crawl, negotiate uneven rock piles, and squeeze yourself through confined cave passages as small as 11 inches by 19 inches. The only source of light is your caving headlamp!
Help Protect Our Bats!

White-nose syndrome is devastating bat populations in eastern North America. To avoid spreading this fungus to Oregon Caves, do not bring clothes, boots, or equipment used in a cave or mine east of the Rocky Mountains in the US or Canada or a cave or mine in Europe. Even if the item has been washed, there is still a risk. Do not bring it.
We Provide

Helmet, headlamp, gloves, kneepads, elbow pads, coveralls, and a souvenir bandana will be provided. To protect our bats, no outside cave gear is permitted.
Mobility Limitations

This is an intense tour both physically and mentally. You will be climbing and descending over uneven surfaces that require upper body strength and good balance. This tour is not recommended for persons with a history of heart, respiratory, back, shoulder or knee problems, joint complaints, vision difficulties, if you are prone to panic attacks or claustrophobia, or if you are pregnant. All participants must be at least 5 feet tall.

Minimum Age

Participants must be at least 15 years of age and at at least 5 feet in height. Youth ages 15 - 17 need a signed waiver to attend the tour.

Preview the Off-Trail Adventure
Last updated: July 10, 2015