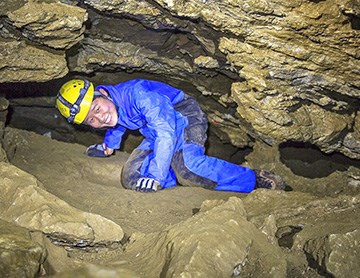 Click here for Off-Trail Tour reservations (recreation.gov site).

An Introduction to Caving

Experience the wondrous, wild areas of Oregon Caves National Monument off trail! Trained guides will teach you caving techniques, cave etiquette, and bring you face-to-face with the marble structure of Oregon Caves. This three-hour experience through tight squeezes and crawls will challenge and exhilarate you!
The Off-Trail 2015 season is June 19–August 30 with tours Fridays and Saturdays at 1pm.

Fees and Cancellations
The cost is $45 per person. You must reserve a tour in advance and space is limited to 8 per tour. To begin the reservation process click here (recreation.gov site).
Should you need to cancel your reservation click here.