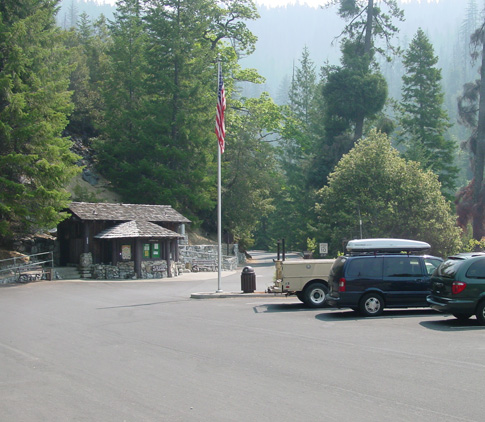 Most visits to Oregon Caves involve traveling by vehicle along Highway 46 (Caves Highway).
Parking is limited at Oregon Caves.
Please park your vehicle at the main (first) parking lot on the monument. If you have a reservation at the historic Chateau lodge or if someone in your vehicle has disabilities you may park at the Chateau.
Large trucks, vans, or buses in excess of 15-passenger capacity, motor homes, or other large recreational vehicles are prohibited beyond the main parking lot with the exception of those commercial vehicles delivering equipment or supplies to the Visitor Center or Chateau.
If you have a large RV or travel trailer, park it (for free) at the Illinois Valley Visitor Center (IVVC) in Cave Junction located at 201 Caves Hwy, Cave Junction, OR 97523. Please be advised that the IVVC is not staffed after 4:30pm. Parking is at your own risk. It is recommended that you do not park after hours and/or overnight.
Bicycling
If you plan on riding your bicycle up to Oregon Caves, please be aware that the lat 10 miles are all uphill and that the roads can be narrow. There is no bike lane. Be sure to wear bright clothing and be aware of other traffic on the road. Traffic increases on weekends and during the summer.
You can only ride your bicycle on paved roads and in parking areas on the monument. There are no tails on the monument accessible to bicycles. However, you could connect to US Forest Service roads by way of Hwy 46. Please contact the Forest Service for more information.