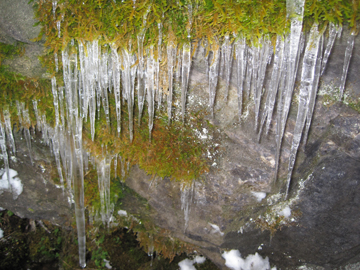 News Release Date:
March 18, 2011
The 2011 tour season at Oregon Caves opens this Saturday, March 19.
"This year is especially exciting," says Superintendent Vicki Snitzler, "because Southern Oregon Public Television (SOPTV) will release two, 30-minute long high-definition videos about Oregon Caves National Monument this spring." One video is about the natural history of the Monument, and the other is about its human history. Both are in final production and will air late this spring on SOPTV, with a later release on Public Broadcast Stations throughout the Northwest this summer.

If you plan to visit the cave early this spring, be prepared for ice and snow on trails leading to cave openings. Bad weather may cause road closures or tour cancellations. Call the Monument for current conditions.

Bat populations at the cave are threatened by the spread of White-Nose Syndrome, fungus that either causes or is a symptom of a disease that is devastating bat populations east of the Rocky Mountains. To protect bats at Oregon Caves, this year visitors will be asked if they have been in a cave in the past five years and, if so, are they wearing any footwear or clothing, or carrying any items that they had at the affected cave. If so, they will be asked to change or leave behind the item to protect our bats. Find our more information about White Nose Syndrome.

Minimal food services are available by the Natural History Association through early May. The Historic Chateau will open with food, lodging and gift shop services on May 7. For more information on cave tours call 541-592-2100. For lodging or reservations at the Chateau, call 541-592-3400.