Date:
June 16, 2007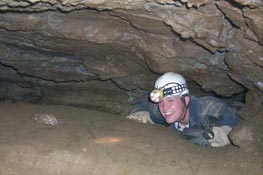 Join us for an introduction to caving!
Get off the beaten path and learn about caving techniques, etiquette, and conservation. You will encounter a variety of caving challenges including climbing and descent over rocky slopes and boulders, hands and knees crawling, belly crawling, and crossing uneven rocky surfaces. 
Due to the strenuous nature of the tour, participants must be in good physical condition and must be able to support their body weight with their arms. This tour is not recommended if you have a history of heart or respiratory problems, back or shoulder problems, or joint problems; if you are prone to panic attacks or claustrophobia; or if you have recently sustained whiplash. Participants must be at least five feet tall and not exceed a maximum size requirement.
Participants must wear clothes that allow a free range of movement and boots with traction and ankle support. Long sleeves and long pants are required. Safety equipment and caving gear will be provided. This includes helmet, headlamp, kneepads, and gloves. Bring a change of clothes because you will get muddy!
Allow approximately 4 hours for the tour.
Tours are booked on a first-come, first-served basis. Call (541) 592-2100 x 237 to make a reservation. 
Tour space is limited to 6 participants. Tours do not go with less than 3 participants.
Minimum age: 15 years
Find out more information about the Off-Trail Caving Tours.