White-Nose Syndrome in Bats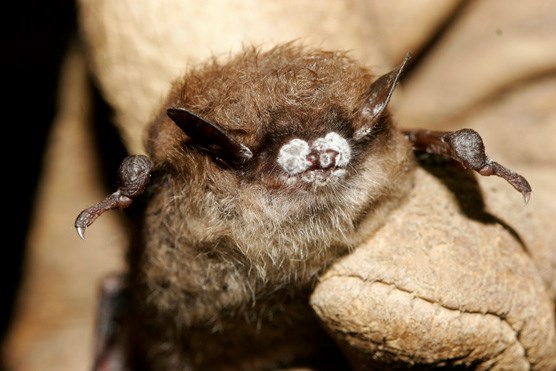 White-nose syndrome is a fatal disease of hibernating bats. Caused by a fungal infection, sick bats may display a white fungus on their nose and exhibit strange behavior, such as flying outside in winter. White-nose syndrome has devastated bat populations in the eastern US and Canada since its outbreak in 2006-07.
White-nose syndrome has NOT been detected in any bat at Oregon Caves. We want to keep it that way, and we need your help!
If you have any items that have been worn or used in a cave or mine east of the Rocky Mountains in the US or Canada or a cave or mine in Europe, please leave those items at home. Research has shown that people visiting caves or mines where white-nose syndrome is present or nearby can pick up fungal spores on their clothing, shoes, and gear, and that regular washing does not remove these spores. Though white-nose syndrome is mainly spreading from bat to bat, it could only take one person to move the disease fungus considerably farther than a bat can travel.
Oregon Caves is home to 8-9 bat species as well as endemic animals that share cave and forest ecosystems with bats. By taking precautions to plan for what you wear and bring into caves and mines and to properly sanitize your gear in between visits, you might be saving the lives of bats at Oregon Caves.
What to do:
Plan ahead! Leave at home any clothing, footwear, or gear used in any cave or mine in a white-nose syndrome-affected area. Currently, items used in a cave or mine east of the Rocky Mountains or a cave or mine in Europe are restricted from Oregon Caves. This restriction is subject to change based on the spread of white-nose syndrome. View the latest map.
Sanitize anything worn or used in caves or mines in between visits and before coming to Oregon Caves. It is especially important to clean the outer layers of clothing and the tread on footwear. Fungal spores are not removed by regular washing. Follow US Fish & Wildlife instructions (69 kb PDF file) to decontaminate your clothing and gear before your next underground adventure.
Avoid hibernating bats. Stay out of all bat hibernation sites in winter. Bats appear to be most susceptible to white-nose syndrome while hibernating. They are also very sensitive to light and noise. If you awaken them, they needlessly use up energy that they have stored to make it through winter, a time when they have no food source.
Report unusual bat deaths. If you observe unusual bat behavior or unexplained bat deaths in Oregon, call the Wildlife Health Hotline at 1-866-968-2600. In other states, contact your state wildlife agency.
Learn more:
View the latest news and maps posted by the US Fish & Wildlife.
View the latest news provided USGS Wildlife Health Center.
Read the Microbe Magazine June 2011 article.
Watch the White-Nose Syndrome video produced by Great Smoky Mountains National Park.
Download the White-Nose Syndrome handout (609 KB pdf file).
Download US Fish & Wildlife release March 2014 article.
This page was last updated May 30, 2014.
Last updated: February 28, 2015