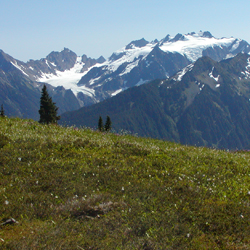 Description
Trail Conditions
Camping
Special Concerns
Safety
Wilderness Map
Map of Camp Areas along Loop
Major Camp Area site maps
Notices
All food, garbage and scented items must be stored in park approved bear canisters

in the Sol Duc River/High Divide/7 Lakes Basin Loop area including all camps adjacent to and enclosed by the Deer Lake Trail, High Divide Trail, and Sol Duc River Trail (High Divide Loop), and adjacent camps along the Mink Lake Trail, East High Divide Trail, and Cat Basin area.
Reservations are recommended for overnight backpacking trips in the Sol Duc area between May 1 and Sept. 30 as permits are limited.
Always, pick up your Wilderness Camping Permit at the Wilderness Information Center (WIC) in Port Angeles, year round.