Six Ridge Trail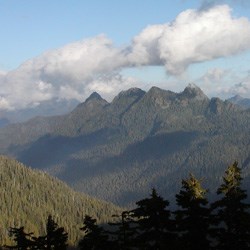 Notices
Description
Trail Conditions
Camping
Special Concerns
Safety
Map
Notices:
Permits are required for overnight camping and can be obtained at the Staircase Ranger Station, the South Shore Lake Quinault Ranger Station, or the Wilderness Information Center in Port Angeles.
Bear canisters are recommended for food storage because of the lack of good trees for hanging.
There are several sections of trail between Belview and McGravey Lakes that are impossible to follow. Map & Compass skills recommended.
There is no water between the North Fork Skokomish River Trail and Belview.
Description
Ecosystem Type: Subalpine meadow, montane forest, subalpine forest
Trail Tread Types: Primitive
General Elevation Trend: Steep
Level of Difficulty: Difficult
Distance: 10.6 miles
Elevation Change: 1,500 feet to 4,650 feet
Best Season: Mid-July through October
Connecting Trails: North Fork Skokomish River Trail, Sundown Lake Trail, Graves Creek Trail
Stock: Closed to stock
Camping
Permits/Reservations: Obtain permits at the Wilderness Information Center (WIC) in Port Angeles. No reservations necessary.
Food Storage Method: Bear canisters are required in the subalpine high country where food cannot be hung at least 12 feet high and 10 feet out from the nearest tree trunk.
Campsites: Belview & Sundown Lake. Elsewhere, camp on bare ground and not on vegetation to protect fragile meadows. Always camp at least 200 feet from water sources.
Toilet Facilities: None. Bury waste 6-8" deep and 200 feet from water sources and campsites. Please pack out toilet paper.
Water Source: Spring at Belview and other small streams or springs between Belview and McGravey Lakes. Always boil, filter, or chemically treat your drinking water to prevent Giardia.
Stock: Prohibited. See Stock Use for regulations.
Special Concerns
Leave No Trace: Please Leave No Trace of your stay to help protect park resources and to prevent further camping regulations. Camp in bare ground sites only.
Fires: In order to protect fragile vegetation, Ffres are prohibited above 3,500 feet.
Wildlife Precautions: Save the Bears! Please learn how to properly secure your food to protect bears and yourself. Do not feed any wild animals!
Safety: When traveling on snow, bring an ice axe and know how to use it.
Last updated: June 21, 2017