Lake Crescent Highway 101 Rehabilitation 2017-19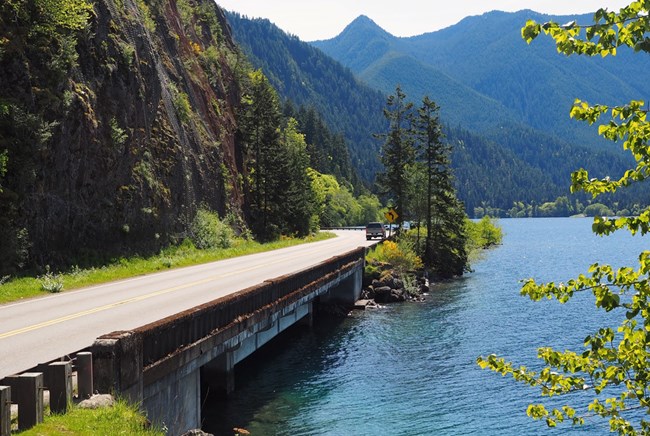 On July 10, 2017, the National Park Service and Federal Highway Administration began a project to rehabilitate 12 miles of Highway 101 around Lake Crescent and four miles of East Beach Road. This project will take three construction seasons to complete and will address safety and long-term maintenance issues.
Project information is updated regularly on this webpage. Follow @OlympicNP on Twitter for additional notifications.
For information in real-time on traffic impacts for Highway 101, check the Washington Department of Transportation Traffic Alert website
https://www.wsdot.wa.gov/traffic/trafficalerts/
.
Traffic Impacts on Highway 101 at Lake Crescent to Complete Final Paving and Striping at milepost 229
May 26 and 27: Expect up to half hour traffic delays for pilot car
Paving is now complete. The final striping for the short section of road at milepost 229 in front of the rock wall will begin Wednesday, May 26, weather permitting:
Wednesday, May 26 - Striping is scheduled to begin at 8am, weather permitting, and last approximately six hours

Thursday, May 27 - Placement of shoulder rock, site clean-up
Travelers on Highway 101 through the Lake Crescent area should expect up to half hour delays during work hours for a pilot car to lead alternating single-lane traffic through the work zone.

Work hours are scheduled for 7:00am-5:00pm.

T
he work to restore the roadway width and shoulder area in front of the rock wall near milepost 229 was completed in fall 2019.
This will complete the three-year road rehabilitation project. Work for 2019 included completing the guardrail replacement, paving the final 2-1/2" wearing surface of the 12-mile work zone (except for the short section at milepost 229), striping, sign replacement, and restoring the road width near milepost 229.

Good to Know
Construction will occur on Highway 101 on weekdays only.
Work hours will vary according to season and daylength.
April 1 - September 23: work may begin two hours after sunrise and must stop two hours before sunset.
East Beach Road rehab is complete.
Emergency vehicles will have access during scheduled 4-hour and 6-hour delays.
Last updated: May 22, 2020