Bear Canisters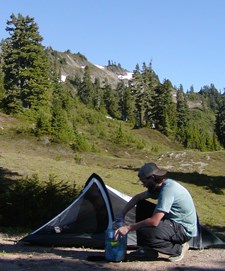 Please do your part to protect yourself, park wildlife, and other visitors by properly securing your food.
In many areas, a bear canister is the only way to properly secure food.
Bear canisters are required in some areas of the park's wilderness backcountry.
Many people, after using a bear canister for the first time, never go back to hanging food because of the convenience and other benefits afforded by using bear canisters.
Allowed Food Storage Containers
Because Olympic does not have staff for testing, we adhere to Yosemite National Park's list of allowed food storage containers. Olympic National Park may change this list at any time to ensure the protection of wildlife and visitors.
Allowed Canisters
Allowed Backpacks
Wise Backpack by Craftsman Tech Composites (hard-sided backpack)
Allowed Panniers

Not Permitted: Ursacks
Ursacks have not been allowed for use in Olympic National Park as a bear canister replacement even though some models were approved July 31st, 2014 for Grizzly Bears by the IGBC. They make a great addition to standard food hanging practices.
Last updated: July 8, 2018