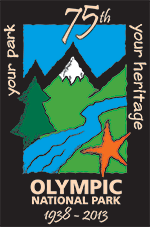 Your Park, Your Heritage
Seventy-five years ago, on June 29, 1938, Franklin D. Roosevelt signed the bill establishing Olympic National Park.
In establishing Olympic National Park, Congress defined the park's purpose as to:
"… preserve for the benefit, use and enjoyment of the people, the finest sample of primeval forests of Sitka spruce, western hemlock, Douglas fir, and western red cedar in the entire United States; to provide suitable winter range and permanent protection for the herds of native Roosevelt elk and other wildlife indigenous to the area; to conserve and render available to the people, for recreational use, this outstanding mountainous country, containing numerous glaciers and perpetual snow fields and a portion of the surrounding verdant forest together with a narrow string along the beautiful Washington coast."
We invite you to join us in celebrating the 75th anniversary of Olympic National Park in 2013.