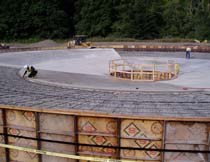 Overview:

A major milestone in Elwha River Restoration were reached in early 2010, with the construction of two water treatment facilities to protect the City of Port Angeles' municipal and industrial water supplies before, during and after removal of the two Elwha River dams.

The Elwha Water Facilities include a water treatment plant that will protect the City of Port Angeles' industrial water supply, the Washington Department of Fish and Wildlife's fish rearing channel and the Lower Elwha Klallam Tribe's fish hatchery. A new surface water diversion and intake structure were also constructed, replacing the old design with a new fish-friendly system, along with improvements to the Crown "Z" Water Road, and area flood protection.
Construction of the Elwha Water Facilities cost $79 million and created 149 jobs for Washington-based companies. Construction began in February 2008 and was completed ten months ahead of schedule in April 2010.