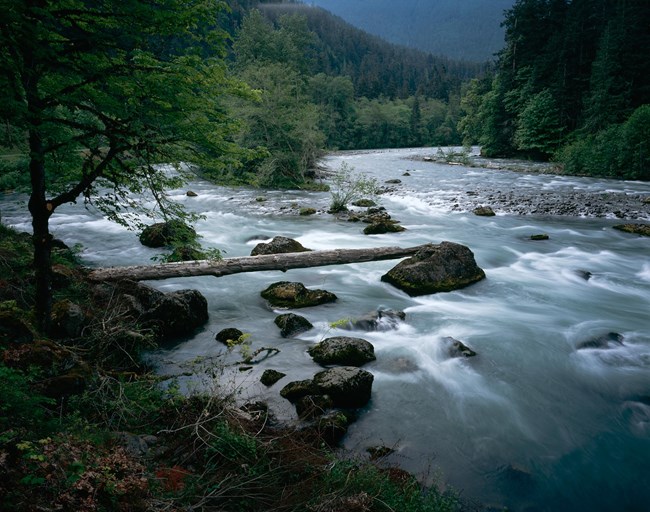 What is this project all about?
Removing the Elwha and Glines Canyon dams will free the Elwha River after nearly 100 years. Salmon populations will swell, from 3,000 to more than 300,000 as all five species of Pacific salmon return to more than 70 miles of river and stream.
The returning salmon and restored river will renew the culture of the Lower Elwha Klallam Tribe, who have lived along the river since time immemorial. Tribal members will have access to sacred sites now inundated by water, and cultural traditions can be reborn.

Elwha River Restoration creates a living laboratory where people can watch and learn what happens when salmon return to a still wild and protected ecosystem. The return of fish will benefit bears, eagles and other animals that have been deprived of a vital food source for nearly a century.

Just as the dams and their hydroelectric power played a vital role in the history and development of the state of Washington's Olympic Peninsula, removing them will create new opportunities for growth and regional vitality. Removing the dams will reestablish the river's natural flow of sediment from the mountains to the coast—rebuilding wetlands, beaches and the estuary at the river's mouth.

Why remove the dams?
Removal of the dams on the Elwha River will restore the river to its natural free-flowing state, allowing all five species of Pacific salmon and other anadromous fish to once again reach spawning and rearing habitat.

The dams were built in the early 1900s and have provided hydroelectric power to a mill for most of that time. However, neither dam was built to include any method of fish passage: the loss of more than 70 miles of salmon spawning and rearing habitat led to a dramatic decrease in fish populations and wide-ranging effects on the entire Elwha Valley ecosystem.

In the early 1990s, extensive environmental review showed that dam removal was the only way to restore native anadromous fish stocks and the river's ecosystem.