Parks as Classrooms
Bring your students to Obed Wild & Scenic River. Find resources for planning your own trip and links to ranger-led programs.
All Field Trips
Field Trips to Obed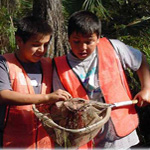 Come One, Come All...
Learn More
Obed Wild & Scenic River offers teachers a wide variety of fun and free curriculum-based programs. Park programs enhance classroom learning by using the cultural and natural resources as teaching tools. Through place-based learning, students make real-world connections with science and history, while having fun at the same time.
All Curriculum Materials
Last updated: April 19, 2016