Indoor Activities

The new visitor center replaces the previous one that was destroyed by the 2009 tsunami and culminates the national park's recovery efforts.

The exhibits were designed and written in Samoan and English for the enjoyment of local residents and visitors from around the world. They showcase the signficance of the islands unique tropical rainforests, coral reefs, fruit bats, and the Samoan culture. You can enjoy the interactive exhibits that integrate models of islands, sea life, forest birds, fruit bats, and cultural handicrafts and tools.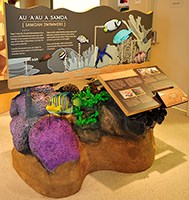 It is much more than a facility, it is a gateway into the heart of Samoan life as it existed long ago, as it still exists today, and as it will exist long into the future.
The visitor center provides you with opportunities to understand and enjoy the cultural and natural wonders the park seeks to protect.


Last updated: August 6, 2013