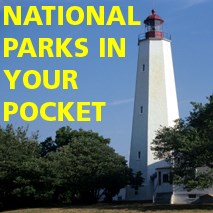 The National Parks of New York Harbor Video Series
The National Parks of New York Harbor includes 23 unique destinations, all of them easy to reach by subway, car or ferry. Now, the National Parks in Your Pocket video series makes it even easier for you to "visit" Gateway National Recreation Area, Grant's Tomb and Hamilton Grange with just a click of your mouse.
Each video is available in three formats: Windows Media (.WMV), Quicktime (. MOV, for iPods) and Apple TV (.M4V). Choose the format that works best for your computer. TIP: If your connection is slow, save the videos to your computer first. Right-click your mouse over the link. Choose "save target as" from the pop-up menu. Save the file to any folder on your computer.
What do you think? We want to know what interests you about the National Parks of New York Harbor. Do you have any comments, or suggestions for new podcasts? Drop us a line!
---