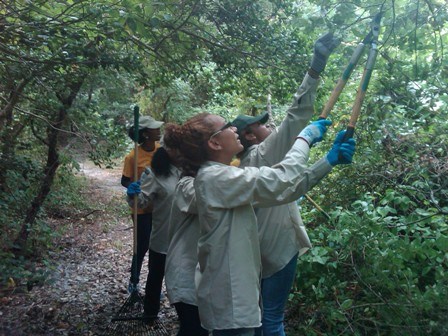 Spend the summer working outdoors in your local National Parks by joining the Youth Conservation Corps
If you are a high school student between the ages of 15 and 18 who enjoys working outdoors in a team oriented environment on projects that will help conserve the national parks in your backyard - then a position with the National Parks of New York Harbor (NPNH) Youth Conservation Corps (YCC) could be for you.
The Job: You will gain valuable work experience in resource protection and facility maintenance as they travel to a variety of sites.
Description: The National Parks of New York Harbor is looking for highly motivated students ages 15-18 to work outdoors in locations throughout New York Harbor on a variety of weeklong environmental conservation and maintenance projects. Projects may include work in natural resource protection, maintenance of historic structures, displays or exhibits, light trail work, gardening, working with volunteers, etc.
Salary: New York State or Federal minimum wage (whichever is higher)
Employment Dates: July 6-August 21, 2015
Employment Schedule: 40 hours per week
Training: Will be provided "on the job" by National Park Service experts.
Location:
You may be surprised to learn that there are 10 National Parks with 22 unique destinations in New York City and northern New Jersey? The National Parks of New York Harbor includes nearly 27,000 acres and welcomes more than 12 million visitors each year.
Here are some of the locations where you could be working this summer:
African Burial Ground National Monument - www.nps.gov/afbg
Castle Clinton National Monument - www.nps.gov/cacl
Ellis Island Immigration Museum - www.nps.gov/elis
Federal Hall National Memorial - www.nps.gov/feha
Gateway National Recreation Area - www.nps.gov/gate
General Grant National Memorial - www.nps.gov/gegr
Governors Island National Monument - www.nps.gov/gois
Hamilton Grange National Memorial - www.nps.gov/hagr
Lower Eastside Tenement Museum National Historic Site (an affiliate) - www.nps.gov/loea
Saint Paul's Church National Historic Site - www.nps.gov/sapa
Statue of Liberty National Monument - www.nps.gov/stli
Theodore Roosevelt Birthplace National Historic Site - www.nps.gov/thrb
Requirements: In order to apply for this opportunity you must:
be a U.S. resident
be between 15-18 years old and enrolled in school (You must be 15 by July 6 and have not turned 20 before Aug. 21)
be willing to work outdoors
participate in work related training
be willing to travel to different work sites
wear the YCC uniform T-shirt (provided)
follow directions
have a positive attitude
work well with others
an interest in environmental issues, history, park facilities and building public speaking skills is strongly encouraged.
How Do I Apply? The application process for 2015, will take place March through May 2015. Please check back for more information at that time.
All application materials are due by May 31, 2015. Please contact the youth coordinator if you have any questions.
Want more information? Check out the YCC-in-NYC Podcasts to see what other local YCC students have accomplished: https://www.nps.gov/npnh/photosmultimedia/ycc-in-nyc.htm . Visit the YCC homepage at https://www.nps.gov/gettinginvolved/youthprograms/ycc.htm
Become a Friend of the National Park Service at https://www.facebook.com/nationalparkservice or visit www.nps.gov