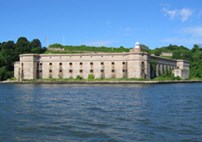 A program for grades 4-5
How did a young United States defend its greatest port, New York City? Sentinels of Our Shores takes upper elementary students back to the year 1846, when war clouds gathered over the U.S., Canada and Mexico.
First, student "cadets" conduct hands-on scientific experiments with our own unique air-powered cannon. How do changing variables, such as the angle or air pressure, affect the range of the cannon? Cadets then decide where to build forts by reading historic documents, including maps.
After this 90-minute program, have lunch in our "Learning Lunchroom." (An optional half hour visit to one of the historic forts must be arranged in advance and depends on the weather.)
Our Teacher Guide includes Document-Based Questions for students and an essay for teachers about the evolution of coastal defense in New York Harbor.
Maximum 35 students. To reserve this free program, call 718-354-4530 or email us.
This program meets the following New York State Standards:
Social Studies Standard 1: History of US, NY
Social Studies Standard 3: Geography
From Core Curriculum:
• Key turning points and events in the histories of Canada, Latin America and the United States
• Geography: Political boundaries change over time.
Math, Science and Technology Standards:
• Standard 3.5: Measurement
• Standard 3.6: Uncertainty
• Standard 3.7: Patterns/Functions
• Standard 4.5: Energy and Matter
• Standard 5.6: Impacts of Technology
English Language Arts Standard 1: Information
and Understanding

English Language Arts Standard 3: Critical Analysis and Information
From Core Curriculum:
• Identify and interpret facts from maps, graphs,
charts and other visuals.
• Speak to share data, facts and ideas in …small
group interactions; express an opinion...
• Speak for critical analysis and evaluation
Learn more about the cultural and natural history at Gateway National Recreation Area.