Help Beta Test the NPMap Builder
Posted on
12 Nov 2013

by
Tweet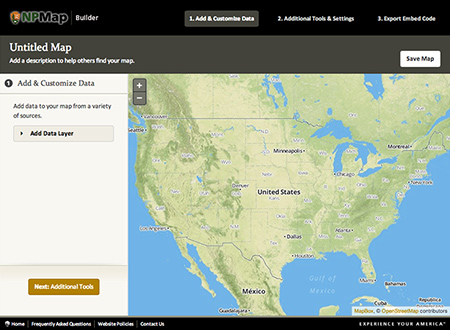 I am happy to announce that a project our team has been pondering, fleshing out, and working on for close to a year is almost ready for release!
The NPMap Builder is a graphical interface that walks Park Service employees through the process of building a map and then deploying it to internal or public-facing nps.gov web sites. We will post more detailed information about the Builder soon, but for now I'll get to the point of this post.
We are looking for ~50 National Park Service employees, contractors, and partners to help us beta test the first version of the Builder. We've conducted some internal testing, but need more "eyes" to help us discover and squash bugs before releasing the tool to a wider audience.
If you are interested in becoming a beta tester, send an email to npmap@nps.gov with the name of your NPS Active Directory account (the name you use to log on to your computer) and a description of a map you want to create with the Builder. Two important notes:
You must be a National Park Service employee, contractor, or partner to participate in this beta (please make sure you send your request from an nps.gov email address)
Only apply if you have time, over the next month or so, to test and are willing to submit detailed feedback