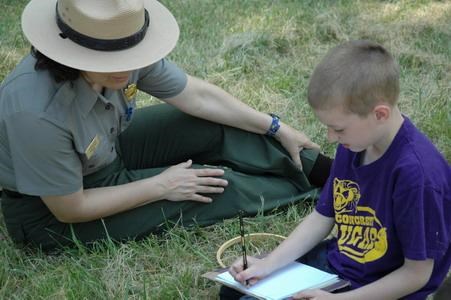 Welcome to the Teacher-Ranger-Teacher information for teachers.
Click here to download more information.

At North Cascades National Park,
we are currently seeking teachers from the Puget Sound Region of Washington State for our summer 2010 program.
Name of Contact: Cindy Bjorklund, Interpretive Media Specialist
Mailing Address: 810 State Route 20, Sedro-Woolley, WA 98284
Email: e-mail us
Phone: (360) 854-7303
Projected Dates of Detail: June-September, flexible
Housing is shared with NPS seasonals. There is one position each summer at North Cascades National Park. Duties include researching and presenting on-site and outreach programs for youth and families, creating curriculum-based activities, and working on specific education projects determined by the park. The park is in a very remote setting, therefore a personal vehicle is necessary.
Why have Teachers in Parks?
National parks enrich the lives of many in this nation. They provide access to the powerful ideas, values, and meanings associated with the remarkable cultural, natural, and recreational heritage of the United States. The National Park Service (NPS) strives to provide opportunities for all Americans to connect to their national heritage through the national parks. However, these opportunities are lacking for some — often due to a variety of social and economic factors.

The Teacher to Ranger to Teacher (TRT) Program offers a solution, by linking National Park units with teachers from Title 1 (30% of students on free or reduced cost lunch) school districts. Teacher Rangers form a link between school children and National Parks.

What would I do?
Under TRT, selected teachers spend a summer working as uniformed park rangers, often living in the park. They perform various duties depending on their interests and the needs of the park, including developing and presenting interpretive programs for the general public, staffing the visitor center desk, developing curriculum-based materials for the park, or taking on educational projects.

Then, during the school year, these Teacher Rangers bring the park resources "into the classroom" by developing and presenting curriculum-based lesson plans that draw on their summer's experience. In April, during National Park Week, Teacher Rangers wear the NPS uniforms to school, discuss their summer as a park ranger, and engage students and other teachers in activities that relate to America's national parks.

TRT is made possible through an Inter-governmental Personnel Act Agreement (IPA) between the public school district and the National Park Service. The TRT program began in 2003 and in 2007 became a national program. During the summer of 2008, parks nationwide had over 90 Teacher Rangers learning about America's national heritage and teaching park visitors about the natural and cultural resources of their park.
Which parks have TRT vacancies and how do I apply for TRT work?
To find out about TRT work opportunties for Summer 2010, click on the more link on the upper right side of this page.
Click here to download more information.