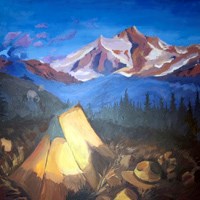 Kathleen Durkin
Baltimore, MA
Spring 2010, Skagit
Painter, mural artist
Click here to view Kathleen's mural she painted with local elementary school students.
Kathleen Durkin is a developing artist, originally from Baltimore, Maryland, who spent six months of 2010 living in the North Cascades, where she excelled as a community mural artist. She completed her BFA at the Maryland Institute College of Art in 2009 and her artist residency brought her to the North Cascades National Park, where she contributed both to the park and the local community. Kathleen's art has been showcased at the Baltimore Museum of Art, the MICA Fine Arts Department Exhibition, at Concrete Elementary School and now at North Cascades National Park Visitor Center. She is well versed in painting, drawing, and print-making. Kathleen completed three large murals as she worked with the students at Concrete Elementary, the First Bloom Program and on the 'Kids Corner' at the Visitor Center.

Public Presentation
Kathleen worked with students on site at Concrete Elementary to paint two large murals during May 2010. The key Skagit River Watershed Mural now greets all visitors to the Concrete School. During October, students and faculty gathered for its dedication as Kathleen congratulated the student's accomplishment and encouraged them to keep making art, wherever and whenever they can. AIR coordinator, Cindy Bjorklund celebrated the work as an example of collaboration the park can provide with local schools and communities while creatively expressing knowledge about their local environment.