Woodpeckers of Ninety Six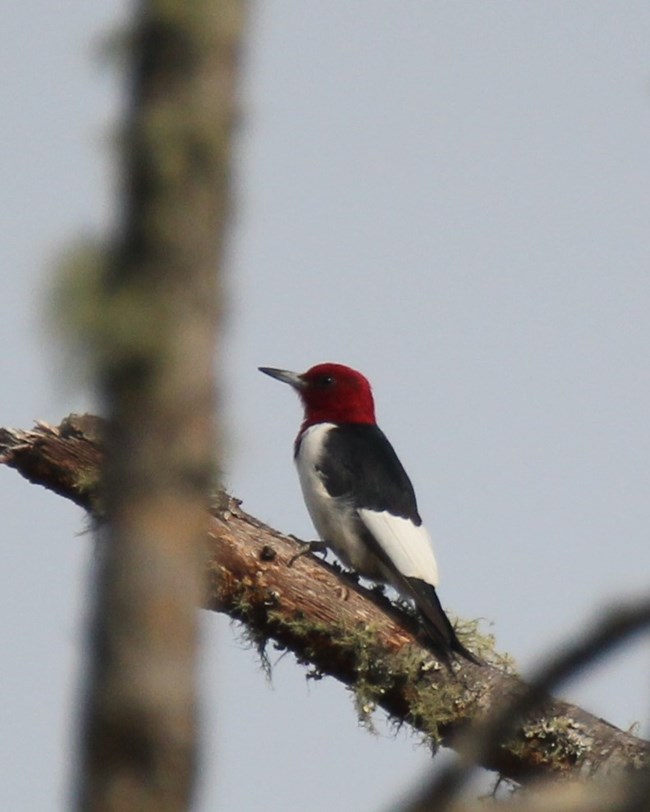 Red-headed Woodpecker
When
Year-round
Visual Identification
Very boldly colored birds with inky black back and wings. They have large white wing patches and white underparts. Their heads are bright solid red. Juveniles have a grayish-brown head and dark brown backs. They often have bars across their wing patches as well.
Fun Facts
The Red-headed woodpecker is one of only four North American woodpeckers known to store food, and is the only one known to cover the food with wood or bark. It hides insects and seeds in cracks in wood, under bark, in fenceposts, and under roof shingles.
Red-headed woodpeckers are fierce defenders of their territory. They may remove the eggs of other species from nests and nest boxes, destroy other birds' nests. Sometime they even enter duck nest boxes and puncture the duck eggs.
The oldest red-headed woodpecker on record was banded in 1926 in Michigan and lived to be at least 9 years old.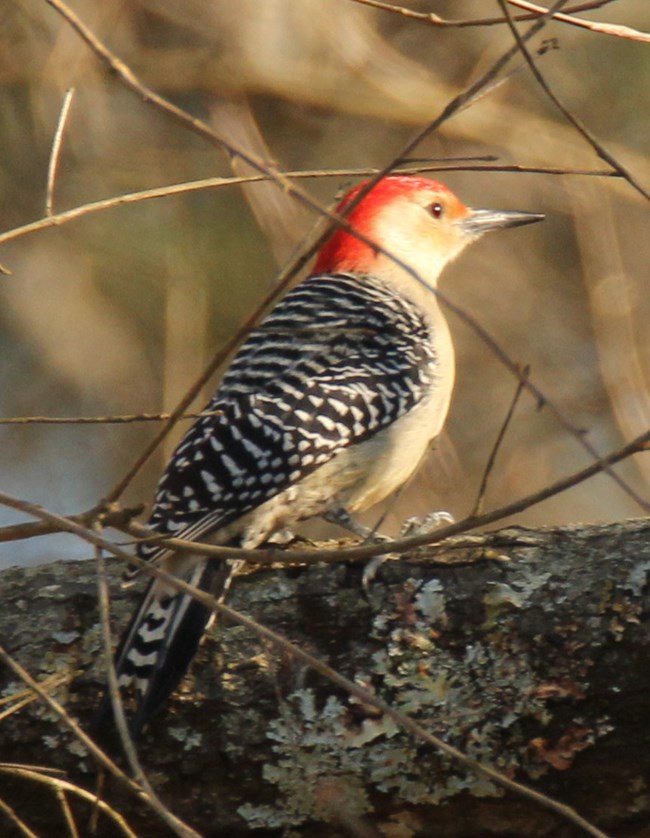 Red-bellied Woodpecker
When
Year-round
Visual Identification
Black and white striped back. Mainly white underside with a hint of red. Males have a red cap and nape while females only have a red nape. Juveniles resemble adults but lack the red coloring on their necks and heads.
Fun Facts
A red-bellied woodpecker can stick out its tongue nearly 2 inches past the end of its beak.
Males have longer, wider-tipped tongues than females.
The tip of their tongue is barbed, and the bird's spit is sticky, making it easier to snatch prey from deep crevices.
The oldest know red-bellied woodpecker was a male in Georgia. He was at least 12 years old when he was identified in the wild by his band.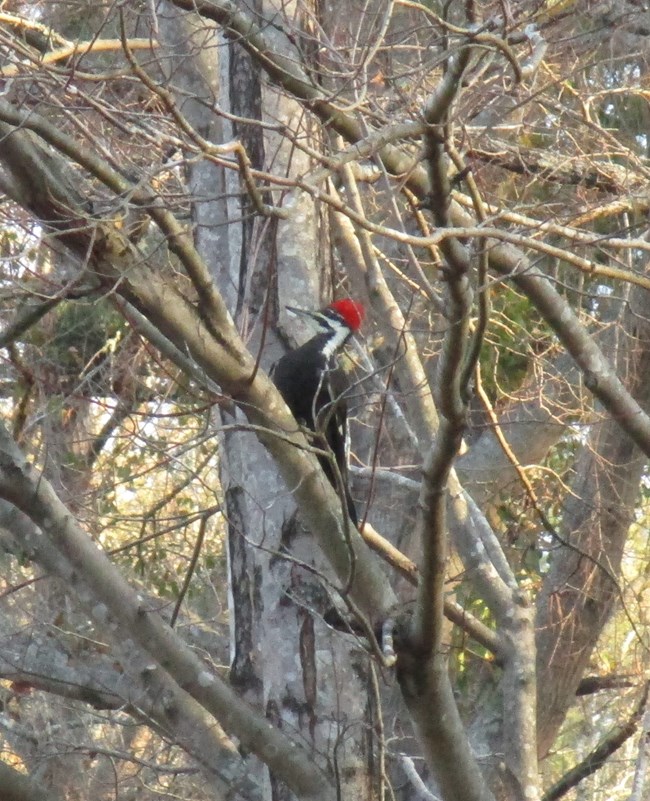 Pileated Woodpecker
When
Year-round
Visual Identification
Largest woodpecker found at Ninety Six with a black body. Both males and females have bold white stripes on the neck and face and a red crest. Males also have red cheek stripe. Juveniles resemble adults.
Fun Facts
The pileated woodpecker digs rectangular holes in trees to find ants.
They prefers large trees for nesting.
A pileated woodpecker pair stays together on their territory year round. They will defend the territory in all seasons, but tolerate new arrivals in the winter.
The oldest known pileated woodpecker was a male. He was at least 12 years old when he was recaptured and rereleased during banding operations in Maryland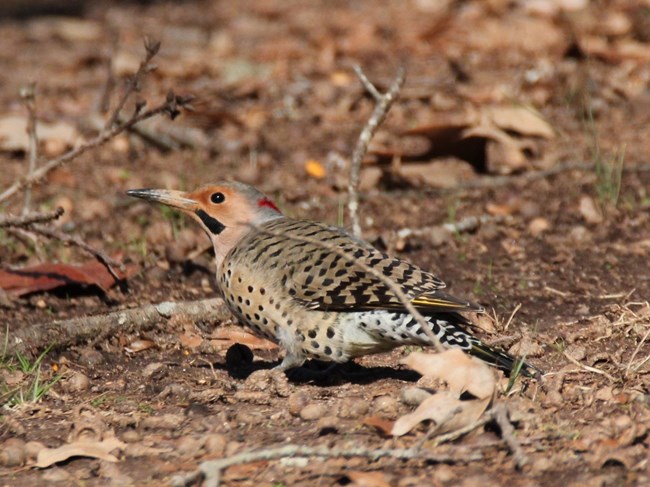 Northern Flicker
When
Year-round
Visual Identification
They have a large black crescent on their chest that looks like a bib or a gorget. Their light brown underside is covered in black dots. Their back is barred black and brown and there is a red "V" marking on the back of their necks. In the East these birds have yellow flight feathers and the males have a black "mustache" like marking. Juveniles resemble adults.
Fun Facts
Although they can climb the trunks of trees and hammer on wood like other woodpeckers, the Northern Flicker prefers to find food on the ground. Ants are its main food, and the flicker digs in the dirt to find them. It uses its long-barbed tongue to lap up the ants
They generally nest in holes in trees like other woodpeckers. Occasionally, they nest in old, earthen belted kingfishers or bank swallows.
Northern Flickers drum on objects as a form of communication and territory defense. In such cases, the object is to make as loud a noise as possible. That is why woodpeckers sometimes drum on metal objects. One northern flicker in Wyoming could be heard drumming on an abandoned tractor from a half-mile away.
The oldest known yellow-shafted northern flicker was a male that was at least 9 years old. He was found in Florida. The oldest red-shafted northern flicker lived to be at least 8 years old.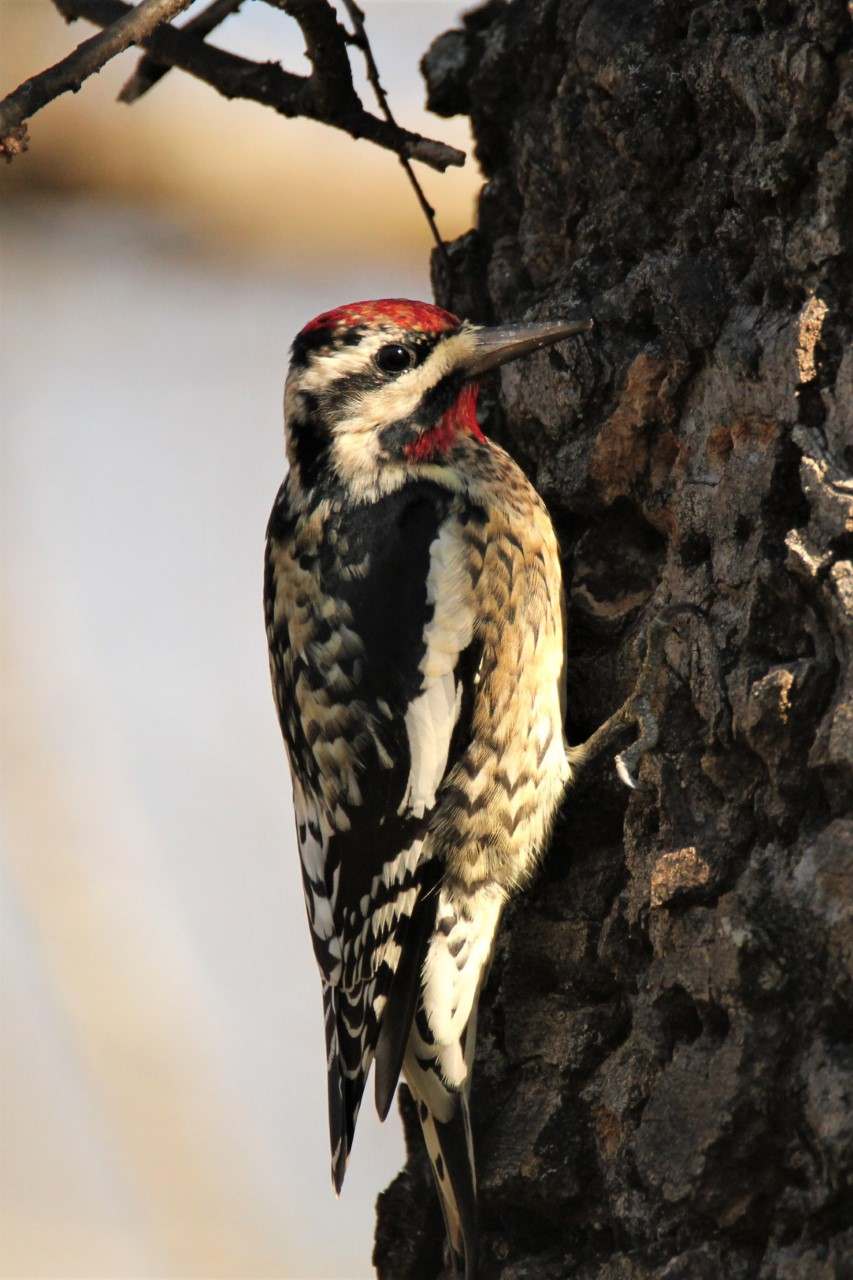 Yellow-bellied Sapsucker
When
Winter, non-breading season
Visual Identification
Backs are black and white and they have a long white wing patch. Their heads have bold black and white stripes with a red top. Males also have a red chin. The birds bellies usually have a yellowish tint. Juveniles lack the red and are more brown.
Fun Facts
The yellow-bellied sapsucker frequently use human-produced materials to help in its territorial drumming. Street signs and metal chimney flashing amplify the irregular tapping of a territorial sapsucker. They seem to suffer no ill effects of whacking their bill on metal. A bird will return to a favorite sign day after day to pound out its Morse code-like message.
The only woodpecker in eastern North America that is completely migratory.
The oldest known yellow-bellied sapsucker was a male who was at least 7 years old. He was banded in New Jersey and found 6 years later in South Carolina.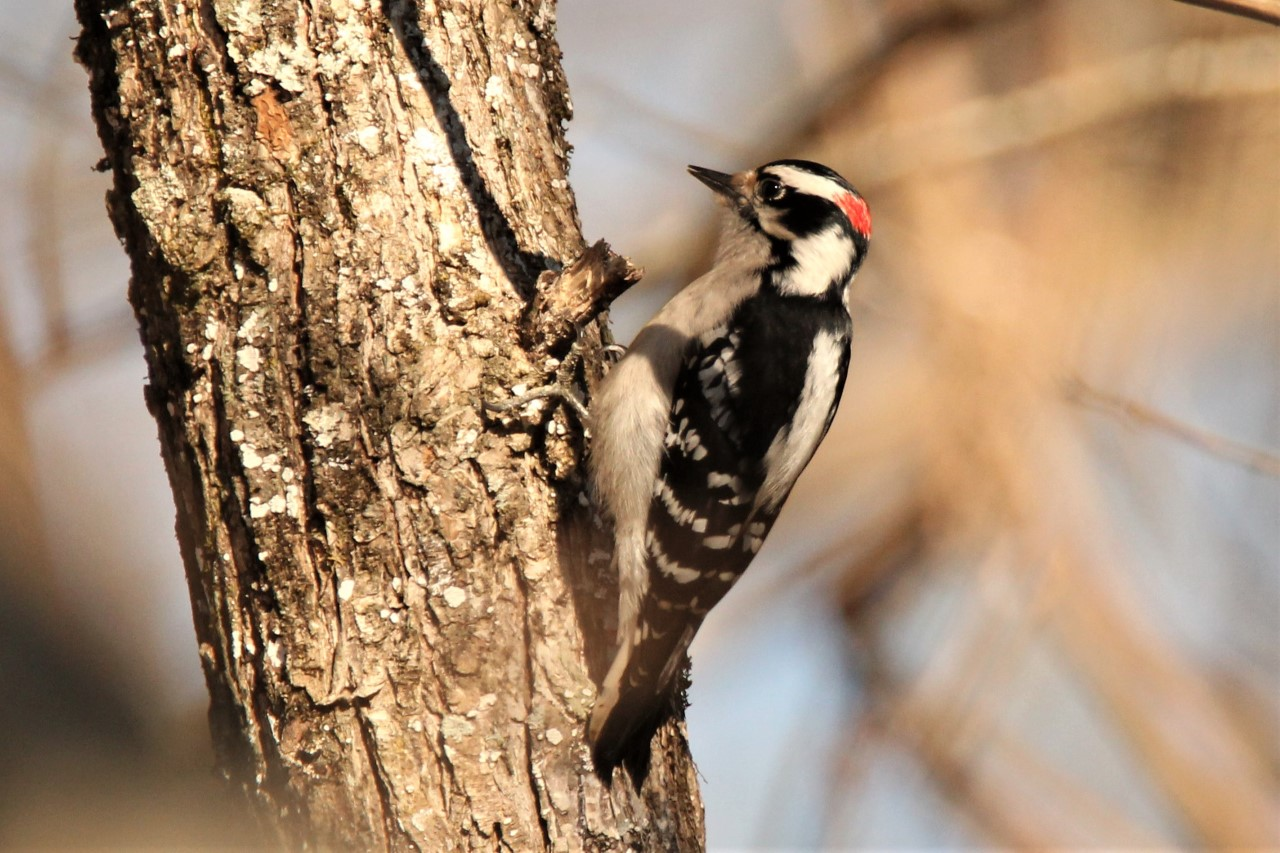 Downy Woodpecker
Where
Year-round
Visual Identification
Looks similar to the Hairy Woodpecker, but is smaller and has a shorter bill. Black and white checkered wings with a white patch down their back. Black and white striped head and white underbody. The bill is small and short in comparison to their body. Males have a small red patch on the back of their heads. Juveniles have a small red cap instead of red at the back of their head.
Fun Facts
Male and female downy woodpeckers divide up where they look for food in winter. Males feed more on small branches and weed stems, and females feed on larger branches and trunks.
They eat foods that larger woodpeckers cannot reach, such as insects living on or in the stems of weeds.
Woodpeckers don't sing songs. Instead they drum loudly against pieces of wood or metal to achieve the same effect.
Downy woodpeckers have been discovered nesting inside the walls of buildings.
The oldest known downy woodpecker was a male that was at least 11 years old. He had been banded in the California in 1985. He was recaptured and rereleased in 1996 during banding operations in the same state.
Hairy Woodpecker
When
Year-round
Visual Identification
Looks like the Downey Woodpecker, but larger and with a longer bill. Black back and wings with white checkering on the wings and a large white patch on their back. They have two white stripes on their head and a white underbelly. Males have a small red patch on the back of their head. Their beak is almost the same length as their head. Juveniles' red patch is on their forehead.
Fun Facts
Across North America the hairy woodpecker can be found from sea level to high in the mountains. In Central America, it is restricted to higher mountain forests.
They sometimes drink sap leaking from wells in the bark made by sapsuckers.
The oldest recorded hairy woodpecker was a male. In 2010 in New York he was at least 15 when he was recaptured and released during banding operations
Last updated: July 1, 2021