Current River Level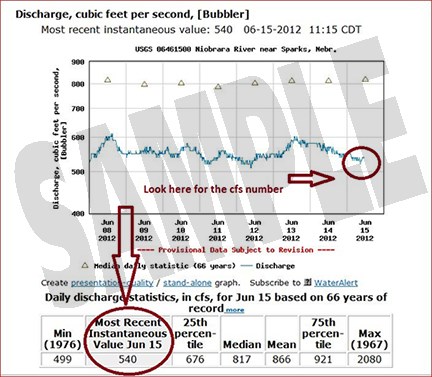 Over 70% of the water in the Niobrara river comes from groundwater seeping from the High Plains, or Ogallala, Aquifer. This is unusual as most rivers are fed by rainfall or surface runoff.
Irrigation in the Middle Niobrara Basin removes water both directly from the river and from groundwater during the growing season, leaving less water available to flow in the river for recreation, fish, and wildlife.
Real-time river level information for Niobrara National Scenic River is provided on line by the United States Geological Survey (USGS) from their Sparks, Nebraska gauge located near Berry Bridge. Click here to visit their web site. Scroll down to the first graph and accompanying table for the current cubic foot per second (cfs) discharge rate. Please remember that the numbers provided are preliminary. If you have any question, please contact us at 402-376-1901.
To translate the cfs information to floating conditions, use the back arrow on your browser to return to the chart below. The image to the right shows a cfs reading of 540 which indicates acceptable boating conditions.
| | |
| --- | --- |
| Sparks, NE USGS Gauge Reading | Recreation Quality |
| 600 - 900 cfs | Optimal boating conditions |
| > 800 cfs | Whitewater optimal at Class II-III rapids |
| 460 - 600 | Acceptable boating conditions |
| 340 - 460 | Boatable, but low quality conditions |
| <340 | Unboatable* (extremely low quality conditions) |

*Unboatable means there may be occasions where vessels run aground in shallow water causing users to get out of or off of their vessel, move a short distance to a deeper channel, and then re-board.
Last updated: February 6, 2018