Hunting & Fishing

Game birds, waterfowl, white-tailed deer, and various other wildlife provide excellent hunting opportunities along the Niobrara National Scenic River. There is limited public land for hunting along the Niobrara; most hunting occurs on private property. Individuals who wish to hunt on private property must be granted access by the landowner. All state hunting regulations apply on public and private property.
Angling opportunities are abundant along the Niobrara National Scenic River and its many tributaries. Rainbow and brown trout are present in several spring-branch canyon tributaries, and can provide a challenge for any avid fly fisher. Anglers interested in using the more popular bait or lure methods can try their hand at channel catfish, carp, bluegill, green sunfish, grass pickerel, and many other fish species. A valid Nebraska fishing license is required, and all state rules and regulations apply on the Niobrara.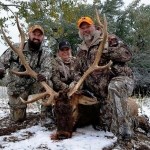 Hunting with Heroes
The Fish and Wildlife Service and National Park Service joined with the Hunting with Heroes program to make our public lands more inclusive. The mission is to give back to our nations' disabled veterans by honoring them with unique hunting, fishing and other outdoor experiences. The Fort Niobrara National Wildlife Refuge and Niobrara National Scenic River joined to provide opportunities to these wounded warriors. This project offers an opportunity to experience the Niobrara River Valley in a way that may not have been possible without this program. This also provides a service to the Fish and Wildlife Service by culling animals that need to be removed. The Hunting with Heroes offer a progressive healing environment where disabled veterans are welcome and supported – a community where they can discover hope again, no matter what battles they continue to fight physically or emotionally.
Last updated: April 15, 2020