Long Point Trail

This trail travels 1.6 miles to a spectacular view of the New River Gorge and the New River Gorge Bridge. The trail begins by traversing through a field behind a number of houses, follows a relaxed forest trail, and then takes a final short and impressive descent through rhododendron and mountain laurel to Long Point. Caution is recommended around the steep drop-offs at the Long Point area.
Impressive views of the New River Gorge, Wolf Creek drainage, and New River Gorge Bridge are available from Long Point. CSX mainline railroad tracks are visible on both sides of the river, and the extensive cliffs of the "Endless Wall" are displayed across the gorge.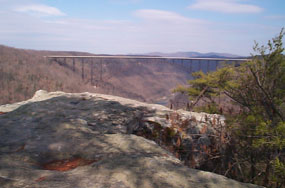 To reach the Long Point Trailhead:
The Long Point Trailhead is reached via Gatewood Road. From U.S. Route 19, follow Route 16 South through the town of Fayetteville. Take a left on Gatewood Road (sign indicating Kaymoor and Cunard). Follow this road for 1.9 miles, and turn left on Newton Road. Parking is 50 yards down on the left.