Rangers in Training

Rangers in Training is a free summer adventure program for high school students, ages 14-17,that engages participants in a series of safe, supervised, and fun adventures in New River Gorge National River.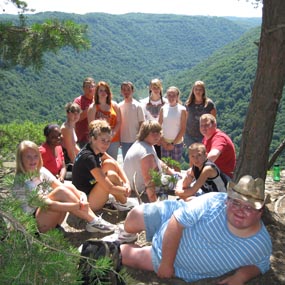 Participants will:
Explore New River Gorge!

Go Whitewater rafting!

Climb the Gorge!

Hike and mountain bike a trail!
Make new friends!
Have a great time!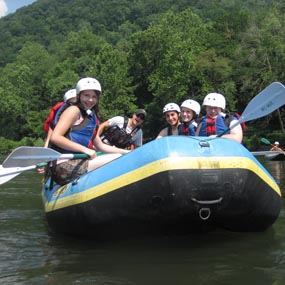 The Rangers in Training program is offered by New River Gorge National River. The program is designed to engage underserved youth, ages 14-17, living in communities surrounding the park to get out in nature and participate in a series of outstanding outdoor adventures. Youth will participate in safe, supervised, fun and exciting educational adventures that will enhance their appreciation of New River Gorge National River, teach a lifelong love of the outdoors, and allow them to explore career fields with the National Park Service. The program is FREE for all participants.

During Rangers in Training, students will...
1. Participate in a series of adventure day-trips during the summer, such as rock climbing, whitewater rafting, hiking, swimming, mountain biking, archery and fishing to learn about and explore New River Gorge National River.
2. Connect with the outdoors through the adventure activities with the goal of inspiring a lifelong appreciation of nature and the outdoors.
3. Interact with park staff during the summer adventures and career shadowing opportunities to get to know the park staff and learn about their careers with the National Park Service.
A Few Things You Should Know Before Applying...
• The Rangers in Training program is offered at no cost.
• Filling out an application is free and there is no obligation to you.
• Teens selected to participate are expected to attend all four day-trips (barring emergencies). As an incentive, teens that attend all four adventures will be able to sign up for a fifth adventure trip.
• Students will need to have transportation to and from a local school, picking up at 8:00 am and dropping off around 6:00 pm.
• If selected, teens will be required to fill out an emergency contact form and provide signed safety release form(s) before attending the day-trips.
• Teens will be notified by early May if selected to participate in the Rangers in Training program.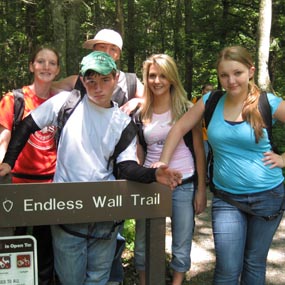 2016 Schedule
The program is a week-long and runs daily 9:00am to 5:30pm during the weeks of:
June 13-17, 2016 for Raleigh County youths
June 27-July 1, 2016 for Summers County youths
July 11-15, 2016 for Fayette County youths
A free bus will pick up and drop off participants:
Summers County at Summers County High School
Raleigh County at Woodrow Wilson High School
Fayette County at Canyon Rim Visitor Center
A free lunch and all gear needed for the adventures will be provided daily.

Application
Get an application to sign up for this year's Rangers in Training program. Youth will be selected on a first come, first served basis. Get your application in early! Download an application here.

Rangers in Training Photo Gallery
Rangers In Training

36 Photos

Photos of students participating in the Rangers In Training program; a program for local high school students.
For a more in depth look at the Rangers in Training program, check out this video:

See New River Gorge's Rangers in Training Program, a summer program for local high school students.



Duration:

5 minutes, 59 seconds
Last updated: March 11, 2016