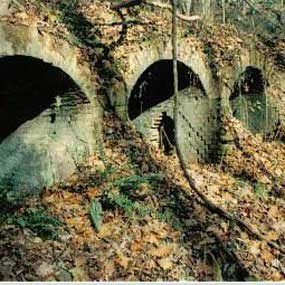 For many years the New River Gorge was a major supplier of the primary energy source for the industrial world, coal. Coal powered the factories, railroads, ships, and heated the homes and buildings of the time. The mining of coal however, posed a direct danger to the people who dug it from the earth.
Of the 21,000 West Virginia coal miners who have died since 1883, when fatality records were first documented, most perished one at a time in roof falls and machinery accidents. This created not only a heartbreaking loss of a father, son or husband but a financial disaster for the grieving family. In its industrial heyday the New River Gorge was the site of three major mine disasters and one unique and still somewhat mysterious "Incident". A mining accident resulting in the death of three or more miners is officially classified as a "mine disaster".

On March 6, 1900, in the Red Ash Mine on New River near Thurmond, naturally occurring methane gas, was ignited by the open flames of the miner's headlamps. This blast also ignited explosive coal dust in the air of the mine and several kegs of powder used to blast the coal from its underground seams. Forty-six miners died in the massive explosion or suffocated in the carbon monoxide atmosphere, (afterdamp) that followed.