Love Your Park Challenge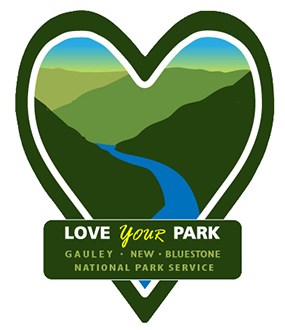 About this challenge:
This challenge celebrates the National Parks of Southern West Virginia, New River Gorge National River, Bluestone National Scenic River, and Gauley River National Recreation Area. The challenge was originally conceived as a way to mark significant milestones at these sites in 2018. Now we continue this celebration into 2019!
Earn points by exploring the parks and sharing your LOVE for these places as a park steward. Earn 50 points or more to complete this challenge.
How to participate:
Explore the National Parks of Southern West Virginia and complete a variety of activities from this challenge list. Check off activities upon completion; add up your points as you go. Build to a total of 50 points; at least ten points must be earned in the Friends, Volunters, and Stewardship activity category. One form per person. NOTE: Each activity earns points toward only one log entry. Example: tour of Thurmond during Thurmond Train Day counts toward points earned for participating in that historic tour OR the special event, but not both.
Return this completed challenge form at New River Gorge National River visitor center to claim your award.Check nps.gov/neri for current center hours.
Deadlines and awards: Earn 50 points by December 31, 2019 to earn a LOVE YOUR PARK challenge sticker and get your name included in a drawing for the grand prize, sponsored by Friends of NRGNR.

First 100 finishers: receive a Love Your Park water bottle
Show your LOVE and finish by February 14, 2019 to receive an extra award.
Challenge tips:
Park maps and site details are available at park visitor centers and at nps.gov/neri
Learn and follow all park regulations. Always respect the rights of private property owners.
Think safety first! Check at the park for updates on current site conditions. Current news will be announced on the park website and on social media.
Help protect park resources by practicing Leave No Trace Outdoor Ethics.
How to share challenge experiences on social media:
Facebook:
facebook.com/newrivergorgenps
Instagram:
instagram.com/newrivernps
Twitter:
twitter.com/NewRiverNPS
Flickr:
flickr.com/photos/newrivergorgenps
#LypChallengeSWV and #NatlParksSWV
Last updated: January 30, 2019